Graduate assistant Miquel Ruano-Moreno ('16) interns for Amador's sports medicine program
When Miquel Ruano-Moreno walks into Amador Valley High School at 3 P.M., he walks in with a smile as he greets trainers, athletes, and sports medicine students. He takes the keys and heads straight to the athletic training room. 
Ruano-Moreno is a graduate student at Pacific University who is interning as Amador's athletic trainer and its sports medicine program. He started the internship in January and will finish in April. 
Throughout the last six years, Ruano-Moreno has been a rotational student, interning at different high school and collegiate athletic programs. Now at Amador, he's gaining experience to hopefully find a full-time athletic trainer job at a high school next school year. 
"I chose Amador because it's a closer drive to where I live and close to where my part-time job is. I'm from the Bay Area, close to home, I missed family and friends, and it was definitely one of the good opportunities for me," said Ruano-Moreno. 
Ruano-Moreno graduated from De La Salle High School in 2016 and graduated from Chico State with a Bachelor of Science degree in exercise physiology in 2020. He will graduate from Pacific University this May to earn his master's degree in athletic training. 
His experience at previous internships include the University of Portland, Jesuit High School in Portland, Tigard High School and the Portland Pickles baseball team. He's attained many medical skills through his experiences and has enhanced his motivation to succeed in the athletic training field. 
"I prefer high school athletes because I think it's easier to connect and help them grow. I think athletic training's worth it because of the relationship aspect you build with the athletes," said Ruano-Moreno.
Amador's head athletic trainer Diana Hasenpflug has been guiding and supporting Ruano-Moreno throughout the internship. Since he arrived in January, he has been looking up to Hasenpflug for advice and assistance when treating athletes. 
"She's definitely up there with the best teachers I've had, probably the most experienced (athletic trainer) I've ever learned from," said Ruano-Moreno. "We kind of learn off each other too. There have been times where I've taught her new ways of evaluating or treating a specific injury, so we're both learning and growing which is amazing."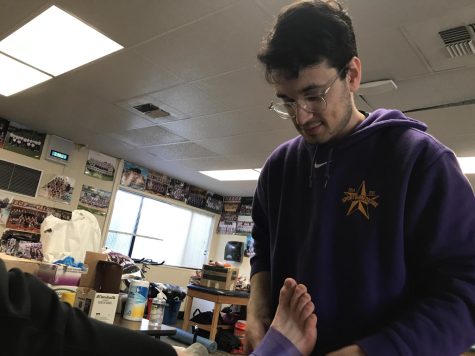 Hasenpflug has helped him with time management in handling patients and taking care of multiple athletes at once. Ruano-Moreno appreciates the many opportunities to work at athletic events, building up his confidence by applying what he's learned. 
"I feel like he came in here with more experience than I was imagining, so I've kind of let him loose and practice what he's learned. I want him to get as much experience as he can before he goes in and takes the (Board of Certification exam)," said Hasenpflug.
Ruano-Moreno plans to forgo his doctorate degree so he can better financially support himself and his family. He hopes to work full-time in high school athletics due to the less rigorous schedules and outside factors compared to the collegiate or professional level. 
"Originally I was interested in (working for a) professional (team). But with how intense this graduate degree was in terms of social life, I really want to work that work-life balance a lot better, so I think high school is the best setting for me," said Ruano-Moreno.
Once Ruano-Moreno graduates this May, he will have completed the educational aspect of his journey and begin looking for job opportunities. He hopes to find a stable job as a head athletic trainer close to home in the Bay Area. 
"(I'm excited about) finally not being in a classroom, to finally be out there and starting my journey with what I've been wanting to do for such a long time," said Ruano-Moreno. "I'm gonna be a little nervous (realizing) this is finally happening. But I've been training for basically these past six years, so I'm ready for it."
Leave a Comment