"Change makers of the next generation": Simran Pandey ('23) participates in civic engagement
Simran Pandey ('23) had her heart set on joining the Competition Civics class since freshman year after she made the Mock Trial team. After a selective process amongst the Amador seniors that applied, Pandey landed herself a spot in the competitive We the People team.
"It was almost as if it was like a rite of passage for Mock Trial kids to do Comp Civics as well, because the two groups are so similar. So I really wanted to join it and hone in on my skills and learn more about the subject that I'm planning to major in for college," said Pandey.
Invested in the idea of advocating civic engagement on the campus, Pandey brought up the possibility for a voters registration drive or a mock election during lunch on campus. They eventually decided on a voter registration drive.
"Right when I started reaching out to people, Miss Sklar posted in her Google Classroom that the person who did it last year wanted to help connect us with the lady who organizes it. So I reached out to her and we got a group of around 10 volunteers to help us out," said Pandey.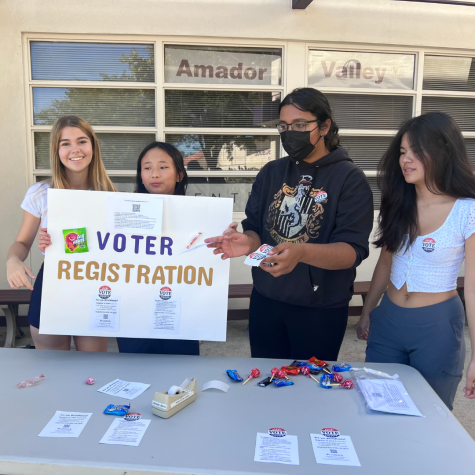 The voter drive was a success as the team registered and pre-registered a total of 80 students on campus.
"The voter drive was important to let Amador students know that they're qualified to make a difference in our elections. Civic engagement is a duty of every citizen, and it's critical to raise the volume of voter participation in the country, starting from the earliest level in high school," said Sarah Zhang, Amador We the People Team Member.
Pandey brought up the idea as there are an estimated 8.3 million newly eligible voters for the 2022 midterm elections and many Amador students are unknowingly qualified to vote.
"I was worried that if we don't like registered voters now, there's midterms coming up, and people aren't going to be able to vote. They might not even know that they're going to be able to vote," said Pandey.
In addition to comp civics, Pandey was part of the mock trial team ever since freshman year. After three years of being a part of the Mock Trial team, Pandey became the AV Mock Trial team president.
"It all started in eighth grade, where my history teacher was like, you guys can either take a unit test on this unit, or you can do a mock trial on the unit. And basically my two options were study for a test or just argue in front of a room of people," said Pandey. "And obviously, I chose the arguing."
For Pandey, her journey into law has blossomed outside of the school level. Over the summer, Pandey participated in the Civic Leadership Institute one week program sponsored by the Arizona State University as a student researcher.
"I worked on a civic engagement research project with an advisor using materials from the Bill of Rights Institute to draft ways to help students become more civically engaged," said Pandey. 
She has been working to bring her research project to life with the Pleasanton city council, the St. Assembly, and the PUSD Student Interest School Action Council.
"I've discussed with the Pleasanton city council members a little bit more about my project, and pitched it to them and gotten feedback from them," said Pandey.
Pandey is passionate about not only engaging the voice of the youth, but also about representing the voice of the Amador student body as the Vice President of PUSD Student Interest School Action Council. 
"We're the bridge between student voice and the district and the city, so we applicd liaisons between students and elected officials," said Pandey. "And just two years ago, SIAC helped pass or promoted the passage of an ordinance that created a tobacco retail license to prevent students from falling into the trap of addiction."
Pandey was also appointed to the Constitutional Rights Foundation Civic Engagement Project Youth board, where she now takes part in creating civic engagement curriculum for student mock trial teams and civic projects.
"It's a really great experience for us to learn what it means to be civically engaged, help other people become civically engaged, and also network with actual professionals in the field to hear their opinions about how youth can become more engaged," said Pandey.
"And I also think that sometimes our voices are brushed aside because we are younger. But I think that being younger allows us to have a different perspective," she added.
In the future, Pandey plans to pursue a career in law as she hopes to take greater initiative in amplifying the voices and dialogue of her generation. 
"It's important for us to be more engaged, because I feel like we truly are like the change makers of the next generation. And it's a really great way to help your community because you can make the community around you like your ideal society, by participating in things you want to see come about," said Pandey.
Leave a Comment