Amador Valley football player commits to University of Colorado Boulder
Brady Nassar ('23) announced his commitment to the University of Colorado Boulder on June 30, as a 3-star defensive end. His passion for the game has developed and shaped him into the player he is today.
This summer, Nassar will graduate from Amador Valley High School marking the end of what has already been a promising career. Committing to Colorado is only the beginning of a new chapter.
Beginnings in football
Nassar started off by playing flag football and moved to tackle football in eighth grade. As just another kid with a dream, he worked relentlessly each day reminding himself to stay hungry and never satisfied. Once everyone realized his potential, Nassar's football career took off. 
"(My initial goal for football was) probably to be better than my dad because that was one of the reasons I started playing football. I wanted to play because my dad played, I thought it was cool, and I fell in love with the game," said Nassar. 
The turning point in Nassar's career occurred at a football camp at Sacramento State. He received no interest from college recruiters prior to the camp. After performing exceptionally well, many college scouts began talking to him. 
From that point on, visits and offers from Division Ⅰ colleges became routine. Nassar attended different camps throughout high school and stayed focused on getting better each day.
"During the COVID year, I played for the Cal Strength team. They were stacked with a bunch of great players and that's really what taught me football. Like freshman year, I was a good player, but nowhere near a division player. After that Cal Strength experience, it turned me on to this new level of football," said Nassar. 
Amador's strength coaches Christian Williams and Bryan Bottero have been training Nassar for around three years. When he began training with Bottero outside of school, it turned Nassar into a completely different player. 
"I'd say he's one of the most competitive people I've ever met, even internally with his own teammates. He retested three of his lifts (during the 1000-pound club competition over the summer) to get himself in first place. Just to say he's the strongest kid in the program. That's just one example of his competitive fire," said Bottero.
Legacy at Amador
Nassar received 12 college offers and took campus visits throughout his junior year. In the end, his love for Colorado's staff, defensive line coach Gerald Chatman, and the city of Boulder led to his commitment. 
"By far he's developed into being one of the best players that we've ever had and he's definitely been the biggest recruit we've had. He loves football and he cares about the team almost more than anybody I've ever coached. He wants to win badly. He's really selfless and puts all his personal things to the side," said varsity head coach Danny Jones. 
Coach Jones has been coaching Nassar since the 2020 football season. Jones led him throughout the recruiting process and connected Nassar with college scouts during the 2021-2022 school year. They maintain a strong relationship on and off the field that will continue to grow each day.
"I love Coach Jones to death. When I was a freshman, I got into this social media fight and he benched me for a game to try to teach me a lesson. You'd think I hate him for it but I love him for it because it did teach me a lesson: saying stupid things on social media can get you banned from the game," said Nassar.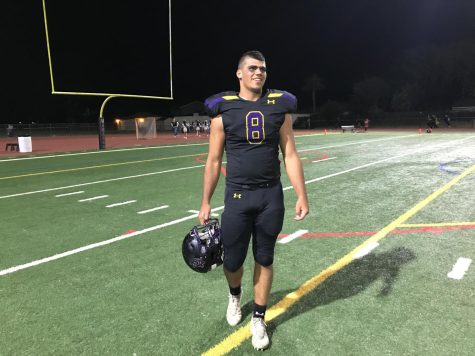 Nassar continues to invest time in youth football and the development of young players in football. He wants to be around the community to shed his knowledge in the sport and help others build a strong character outside of football.
"He's figured out who he is, what he wants to do in life, he's a really good human, and cares a lot about other people," said Brady's father John Nassar. "He really has a purpose and a mission and it's not all football. It's how he becomes a better person and a good citizen of society. I've enjoyed watching him mature and become an adult." 
As he heads to Boulder next fall, Nassar continues to work hard in training for football and education for a business major. Through the ups and downs of football, training, and life, it's those around him that drive his motivation to push through adversity in achieving his dreams.
"I'd like to thank my parents, my brothers, and the people who've helped me. They are who I've become. They give me my strength. They're the reason why I do what I do and how good I do it," said Nassar.
Leave a Comment