Taking the reins: Rohan Choudhary ('24) competes as an equestrian
Whenever a teacher asks for one fun fact from each student, Rohan Choudhary ('24) always answers that he trains in horse riding. People usually react with surprise. 
"They'll be like 'oh that's an uncommon sport,' but they definitely remember it because it's not a very common fact," Choudhary said.  
The first horse he ever rode was whipped. In India, at eleven years old, he held tight onto the saddle while trainers beat the horse from behind. 
Since then,  Choudhary has never once raised a whip against a horse after moving to the United States. He practices horse riding three times a week at Kelly Maddox Training, participates in numerous regional equestrian competitions, and learned to view horses as friends and treat them with respect.  
Jumping high 
So far, Choudhary has competed in approximately ten shows and won over 30 ribbons. They hang in his room across his wall, a colorful array of fluttering victories. 
In his first equestrian competition two years ago, however, nerves got the best of him and he forgot his jumping course. 
"All the trainers started yelling 'wrong jump, wrong jump!' right before I took the first jump," Choudhary recalled with a laugh. "I took a big circle and the judge actually stated I went off course, but my trainer was like 'no, no he was actually planning on doing that big circle.'"
Looking back, though he didn't win any ribbons, the "messy" experience helped Choudhary gain more confidence in himself while competing. Now, he's well-known in his training academy for keeping a calm composure during competitions. 
Among the hundreds of horse-riding categories, Choudhary competes regionally in two: hunting and jumping. 
In hunting competitions, riders are judged on accuracy, grace, and elegance. They must look effortless atop their horses, even while wearing stiff, collared shirts and thick jackets, sometimes in 100 degree weather. 
In contrast, jumping emphasizes how high a rider can jump and how fast they can clear the course. Judges allocate an optimum time at which riders should make a jump, taking off points for fouls like a horse's foot nicking the jumping pole. Choudhary competes in the three foot division, but pole heights can reach up to six feet. 
Choudhary prefers competing in jumping because it's less constricting. 
"I don't like hunting because you really have to keep in mind how you look on the horse, and it's also kind of slow in my opinion," he said. "Whereas with jumping it's like 'go, go, go!' You don't have to care about your body position. When you're going right over the jump, you feel weightless and free." 
For those interested in horse riding, Choudhary warns that the sport doesn't come cheap. By his estimate, the horse itself could reach $30,000, the saddle could go up to a couple thousand dollars, and even small equipment like his helmet costs at least $300. 
Add on the cost of his riding raiment–show shirt, riding pants, thick coat, show helmet, riding boots–and the final total screams expensive. 
That's why Choudhary believes dedication is key to horse-riding success.  
"If you're going to go with this sport, you have to commit. You can't just stop somewhere, because it's going to be a waste of money and a waste of time," Choudhary said. "You just have to keep sticking with it. It may be a little slow with progress at first, but as you ride more and more, you'll slowly see yourself get better."
A tail of trust 
Last year, Choudhary bought his own horse named Carlos, christened Champion X in competitions. A former six foot division jumper at 26-years-old, Carlos was considered a mature horse. However, he had trust issues around strangers.
At first, any time Choudhary walked into the stall or even reached out a hand, the horse would "completely freak out." 
Choudhary had to take things slow. 
"Every time I would go ride Carlos I'd have to get him to trust me again," said Choudhary. "Even though maybe there was a one day time difference, he'd be completely scared of me the next time." 
Over the course of a month, Choudhary gradually earned the horse's trust. 
"Now when I feed him, he's like 'oh it's you, I know you,' so he trusts me. He knows me," Choudhary said.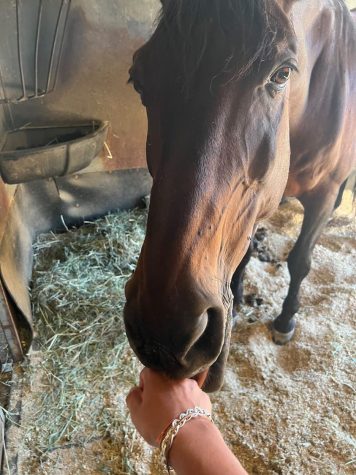 For him, the horses are, without a doubt, the best part of the riding experience. 
"It's fun to hang out with them and they all have their own personalities in a way," he said.
While competing, horses and riders work as a silent, steady team: the rider guides the horse by making certain movements with their legs, and the horse listens and responds. 
According to Choudhary, horses can sense nervousness from their riders. Some will take advantage of rider anxiety and stray away from the course. 
"Carlos in general is a pretty good horse. He can tell how I feel, like 'oh my rider's nervous, I should probably take care of him more,'" said Choudhary. 
Through riding, Choudhary learned to appreciate the strong bond riders can share with their steeds. This relationship is something special he gained not just by riding, but also hanging out with horses. 
"When I first started in India, obviously all I thought was that they're just going to whip the horses and have them go fast. But now I have a deeper connection with a horse and I know better how to handle them," he said. 
Leave a Comment