"Recognized in this Country": May honors Asian American and Pacific Islander month
Asian American and Pacific Islander (AAPI) month aims to recognize the contributions of all Asian and Pacific Islander communities to the United States. The month of May was designated for both the first wave of Japanese immigrants on May 7 and the Golden Spike Day, otherwise known as the completion of the Transcontinental railroad by predominantly Chinese immigrant workers on May 10.
"This month brings awareness to the Asian and Pacific islander community. It recognizes the contributions of the community. And it's also especially important in these times since Covid leads to more hate crimes," said Jonathan Wu ('22), Chinese-American.
Students with Asian American and Pacific Islander backgrounds can also be seen in the Amador student population and the communities are recognized through performances at Donversity, a signature Amador event that celebrates the diversity in Amador, that occurred in early May.
History of AAPI Month
Efforts in the creation of AAPI month were first seen in 1977, where Jeanie Jew shared the idea of a celebratory week for the AAPI communities' contributions to the U.S. with Frank Horton, New York representative. Horton presented the House Joint Resolution 540, which advocated for the first ten days of May to be Asian/Pacific American Heritage Week.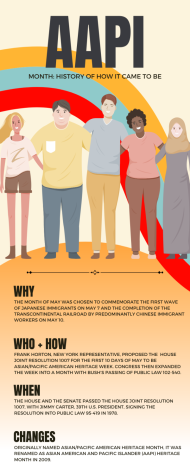 "I think Asian and Pacific Islander month is great, since in the media and in most of the holidays in the US there's not a lot of instances where we feel represented and heard. Having this month shows that we are being recognized in this country," said Priscilla Kang, President of Korean Culture Club ('23).
While the resolution failed to pass, Horton attempted again with the House Joint Resolution 1007—almost identical demands to Resolution 540—to the president in 1978. And following Horton's proposal, the House and the Senate passed the House Joint Resolution 1007, with Jimmy Carter, 39th U.S. President, signing the resolution into Public Law 95-419 the same year. 
While following presidents continued the tradition for Asian/Pacific American Heritage Week, Congress expanded the celebration to the entirety of May through the George Bush administration's passing of Public Law 102-540 in an effort to bring forth more recognition to the communities. Another change made to the month was the difference in name. Originally named Asian/Pacific American Heritage month, it was renamed as Asian American and Pacific Islander (AAPI) Heritage Month in 2009.
"I always value being proud of my cultural heritage (as a Vietnamese-American) but this can prove to be really difficult. Sometimes, I struggle with identifying with both sides of culture equally. For example, English is my native language because I was born and raised here, but I also want to make an effort to become fluent in Vietnamese," said Y-Duyen Nguyen ('23).
AAPI: the Diversity Behind the Abbreviation
"Being a part of the AAPI community, in my opinion and considering my experiences, means that you keep both Asian elements and American parts as a part of your culture. You might have more elements from one identity than another, or you might have them completely equal," said Kang.
AAPI, Asian American and Pacific Islander, communities include around 50 ethnic groups speaking 100 languages. These communities can find their ancestry traced back across the Asian continent (East, Southeast and South Asia) related to Chinese, Japanese, Korean, Indian, Filipino, Vietnamese, Hawaiian, and Pacific Islands of Melanesia, Micronesia, and Polynesia. 
"I think Asian Pacific Islander month is important because of the representation it extends to the Asian community. As a South Asian, I sometimes feel like I lack the representation that is needed, so this month gives people a chance to be more aware about the different types of people in Asia," said Sriveda Yadavilli ('24). 
With the signature event of Donversity that resumed this year after the pandemic that represented the Asian American and Pacific Islander student diversity in the student body through Bollywood dance, Korean pop dance, and others. 
"I think Asian and Pacific Islander month is something that needs to be talked about more…I rarely hear anyone bring up Asian and Pacific Islander month. Asian-Americans are a part of this community too, and we deserve to have our voices heard among others," said Nguyen.
Leave a Comment