Sarah Zhang ('23): How to win in DECA and in life
On Thursday, May 6th, Sarah Zhang ('23) placed fifth overall in the finals for DECA, making her one of the only people from Amador to reach and even place for the DECA International Career Development Conference. It all started with Zhang taking a leap of faith in her sophomore year.
" When I was in middle school I searched up 'good high school clubs at Amador,' and Deca was always one that came up. I thought I wanted to go into STEM or computer science, but business was always something I wanted to explore, and I know it's a field you don't really get exposure to at school," said Zhang.
According to the official DECA website, DECA (short for Distributive Education Clubs of America) is a club that can be found at nearly every high school, allowing students to explore the world of business, and management, and foster leadership skills. The club allows students to compete in a specific category relating to business such as pitching a product or roleplaying a marketing strategy. Zhang went into the club to explore entrepreneurship but ended up switching to a different category 
 " In sophomore year at our district competition, I focused on an event called entrepreneurship Innovation plan, a written event where you have to produce an innovation plan. I really just did not know at the time how competitive it was or what specific tricks you needed to do to earn that spot, and so this year I decided to switch my event to something I found more interesting and something I want to explore. It's called the business finance series, it's like individual role play," said Zhang.
Sarah quickly moved up the ranks in DECA, not due to luck, but because of her sheer grit and hard work. Months of preparation allowed her to make it to the international stage, called ICDC which few Amador Valley club members attended. Zhang spent hours practicing every day and in the end, it paid off.
 "At ICDC there are two rounds, the preliminary round and then the one that allows you to place [on the podium], and so I remember when I got my call up to the stage I was really confused because I didn't place top 10 in any of my individual parts. I was like 'why am I on stage, and I remember talking to the person next to me on stage and they said 'that means you're an overall finalist'," said Zhang.
So how did she win? Sarah put in countless hours into studying, and at times she hung on simply through sheer grit and determination. While she agrees hard work is important, Zhang credits her success in DECA and in her life overall to networking.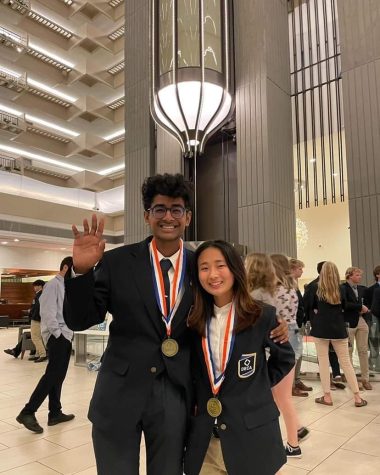 "People are really willing to socialize and make connections and that's honestly the best way to gain skills. I've really started networking and reaching out to people to prepare for my event. I was reaching out to previous winners, ICDC winners in Canada, but then I started applying that to different aspects [of my life]. For example, if I was trying to apply to a summer program or an internship, I would ask people who have done it before. I wouldn't hesitate to ask," said Zhang.
Sarah isn't just one of the international finalists for DECA, she also plays a crucial role in running the club at Amador, being the Vice President of Logistics. This means she spends a lot of time doing the actual paperwork that the club has to have in order to get to competitions. Time management and dedication are key, and Zhang has to constantly figure out what to prioritize. 
"The second semester we have all of our competitions, so just doing officer work I would say [I'd spend] at least an hour a day working on stuff. Especially since like coming back after covid, no one knows how to do anything so we have to figure it out as we go along. In terms of competition, I would just say like leading up to the competitions, I was studying like 5 hours per day like after during like a school week," said Sarah.
Juggling AP classes, school work, and club duties, Sarah still finds time to dedicate to her own competition work at DECA, but it comes at a cost. Like many others faced with the overwhelmingly heavy burden to succeed and Zhang's mental health took a toll at times.
"The day before we had to leave [for competition] I remember literally breaking down four times that day. I literally had to step out of the classroom each time and I was just crying because I was so so stressed and anxious," remembered Sarah.
Through her hard times, Zhang was able to persevere by opneieng up to those in her support circle, especially her parents. 
"Talking with my parents help me so much. I'm so grateful because my parents aren't really business people, but they're really supportive of me being interested in like finance," said Zhang.
Sarah has come a long way since sophomore year. She looks forward to participating in DECA for the rest of high school and is even considering a career in business. Zhang has applied her skills from DECA to all aspects of her life, but most of all, she emphasizes the value of planning ahead.
"I would say the most important thing is strategy. You have to approach this strategically. It's really about the initial direction and the initial strategies that you want to take to accomplish your goals," said Zhang.
Leave a Comment