AVHS Yearbook wraps up 2022 edition after months of work
If you walked into J-1 in the morning, chances are you'd find a bare six students and a teacher hard at work. In the morning, J-1 is filled with  the clacks of computer keys filling the room, the flash of a camera lighting up a staff member's face, and more. This is just a typical day in the life of a yearbook student, who throughout the year, will be partly responsible for the completion of 407 pages before May 9th, the final deadline.
"Some of the pages were challenging because we couldn't find the right people to interview, or we couldn't get the right pictures, or it took a really long time so we could find the right people to get, and that caused it to be a little more stressful as we got closer to the deadline," said Elizabeth Hahn ('23).
As a result of COVID, Yearbook could not be publicized on the same scope as usual during the year of 2020-2021. Consequently, when staff members came together on the first day, they saw only six people in the classroom, a record low for the class. While seemingly a daunting task in the beginning, the staff members pulled through and successfully submitted the book on time. 
"I think just having so few students was hard, but it worked out so well that now it doesn't seem like an obstacle. I think the pros were we all communicated much better. I feel like I was much more involved with checking on kids than previous years. Usually I would have the kids based in groups and there would be a leading editor who would check on the kids in each group, and I [would be] less involved, so it was nice to be involved," said Yearbook teacher Julie Foley.
Seniors Holly Fletcher and Abby Wight are the editors in the class. They lead their peers, oversee larger projects, work on their independent pages, and make sure there are no mistakes in the book. Fletcher is in charge of layouts, photo editing, the dividers, and making sure the staff members are staying on track for their deadlines. While time consuming, this role has taught her lessons in communication and assertiveness.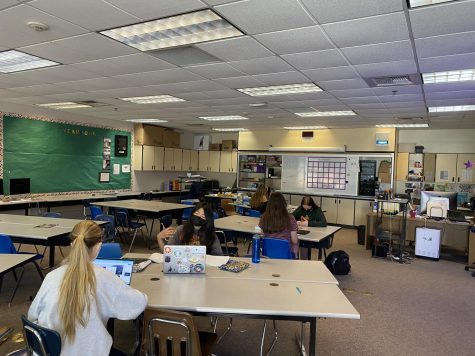 "I think it was really important to communicate my needs when doing club pictures and senior favorites. Like a lot of what I was doing for staff favorites was talking to teachers and communicating what I needed, especially with club pictures. [I had to] be loud to just gather everyone together," said Fletcher ('22).
Wight is the page editor, meaning that whenever there is text on a page, she edits grammatical errors and revises for clarity and consistency. As soon as a staff member finishes their page, it's time for Wight to give her final approval on the page and submit it, so that the writing in the book is polished and professional.
"I became a copy editor because I really like editing people's grammar. Like in middle school when we would do peer corrections for essays, I would always edit my peer essays, probably way more than necessary, just because I liked correcting people's grammar. Being the only copy editor was difficult because it is a big job for one person, but it worked out," said Wight.
One of the editors' biggest tasks this year were the club pictures at the back of the book. From November to the end of February, the senior editors sacrificed three lunches a week to organize club photos, and in the end they had photographed 70 clubs. A testament to the diverse culture here at Amador, it was a time consuming but rewarding task.
"It was at lunch time, so a lot of kids wanted to get off to lunch. It was hard to get people organized into their lines and listen to what the procedures were, and sometimes it was hard to figure out what people's names were because they wouldn't write down their name," said Fletcher.
As for the other staff members, they had their own pages to deal with. The small number of people meant that each member had to take sole responsibility for gathering information for their page.
"My experience was kind of a lot at first, considering we only had six people, so I kind of had to take on more than a normal first year student would have," said Hahn.
Each month staff members would be responsible for one or two pages that they had to complete at the end of the month. While it might not seem like a lot, one page means getting quotes, taking pictures, writing captions and a copy, all while relying on other people for information – a.k.a. numerous, numerous emails, too many to count. 
"The main thing was just time management with the pages. I think the first semester was the busiest I have ever been throughout high school, so it was hard to find the amount of time to go out and interview people, because doing the pages did take a long time… I felt like it took a lot of effort to put as much quality into the pages as possible when I had so much other stuff going on," said Emily Chao ('22).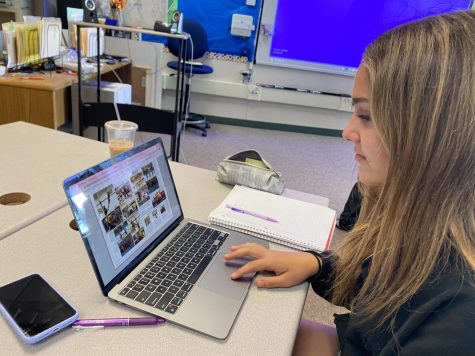 Yearbook students also had to brave the awkwardness of walking into people's classes, sometimes during a lecture, or even during a test. Since they only had first period when most everyone was on campus, this was the main way of reaching out to people, even if it meant having to interrupt a class. Some days were spent roaming the entire school tracking down people for quotes, and as the staff walked from the R building to the Q, they often faced situations where out of a class of twenty or more students, no one would be willing to answer a single Q&A.
"I think one of the hardest parts was the communication when people weren't here and you had to email them. It was hard to stay organized. Counting on other people was hard, because I was like, once we have all the stuff, I knew that I could put everything on the page," said Fletcher.
Yearbook students got to hone in on their talents and passions this year in the creation of the book, as having less people in turn means having more freedom. For cheer athlete Savanna Harper ('24), that meant getting to look through all her stunt photos throughout the season and creating a page that showcased her team and their achievements.
"I would recommend this class because you get to do so many different things and you get so many opportunities. Not only do you get to edit but you can take photos, you can write, there are so many different options of what you can do," said Harper. 
Now that the yearbook is finally done, the whole class agrees that they are excited to see the final product of their yearlong project. While some may feel a little nervous, they can all agree that after months and months of viewing the book on a tiny computer screen, the delivery of the books will make it tangible and representative of their hard work and dedication.
"You spend all year working on this massive project and then it comes and it is delivered and it is real. Any other project in school you complete it, turn it in, and it goes away, whereas this is one project that really does lasts forever," said Foley.
Leave a Comment