Leading the Band: The story behind Mr. Grantham and Mr. Cordoba's path to conducting
The Amador Valley Band Program has six concert bands, three jazz bands, a marching band, colorguard, and much more. At the heart of it all are its two directors, Jonathan Grantham and Edwin Cordoba. Their journeys started back in middle school, where they had to choose whether to join band or not. For Mr. Cordoba, he knew music was something special early on. 
"I was always fascinated by instrumental music. I'll never forget seeing the orchestra in fourth grade. In middle school band, I remember taking out my horn in sixth grade and being so excited… I was up till midnight the first day trying to play a concert F," said Cordoba. 
Meanwhile, what influenced Grantham to sign up was his mother, who played flute in her high school.
"When it came time for me to sign up for band in middle school, my mom gave me really nice encouragement.  She didn't force me to, but shared with me how much band meant to her when she was a high school student and encouraged me to give it a try, so I did. She was the one who opened the door for me," said Grantham.
At first, trombone was neither director's first choice. For Mr. Cordoba, his original pick was clarinet. For Mr. Grantham, trumpet. After that first day at school, however, they've stuck with the instrument since. 
"I wanted to play trumpet because my best friend at the time was going to play trumpet. When I went to get fitted for the instrument, I couldn't make a sound, so the music store employee said, 'Well, next best thing is the trombone. Do you want to try it?,' and I was like, 'Okay,' " remembered Grantham.
Having been musicians for so long, Grantham and Cordoba both paused to ponder when asked what their favorite part of music was. Their long involvement with music throughout their lives meant they both had deep connections to what it meant to them.

---
Initially, music wasn't in sight as a career path after school, but their teachers pushed them both to think of it as a possible option. Mr. Grantham especially was inspired by his high school band director's ability to make his students feel understood and like they had a place in band. 
"There was a time when I didn't normally practice my band music, which is a weird thing for a band teacher to say, but I didn't think I needed to at the time. My band teacher gave us a piece of music with really hard trombone parts, so I actually had to go home and practice my band music. I remember coming back after having worked so hard on it, and the very first rehearsal we had after I practiced, he stopped and complimented the trombone section on how well we had done, and that was a moment where I realized why I wanted to do this – because I worked hard, he noticed [my efforts]," said Grantham.
Although Grantham has been in California for 20 years now, he started in Michigan. Because it was a smaller school district, he was the sole band director at that school, teaching grades five to 12 and meeting hundreds of students a day. He even headed a small marching band consisting of 20 people, a drastically smaller size compared to Amador. 
"There's over 300 students in the band, but [back then] I was teaching about 450 students in a course of a day in that school. I can look back now and say 'How did I do that?' because it was a lot [of work]," chuckled Grantham. 
After  two years of teaching in Michigan, he left to formally quit teaching for a year because he could no longer take the harassment. He was not out at that time, and the frequent derogatory slurs on campus students called him was exhausting to put up with. Eventually, he moved to California with his partner at the time.
"I regret that I had to leave my students at that time but I also know that it opened the door for me to get here. When I moved to California, Amador was the only job I applied for. One application, one interview, I got the job. It felt like it was meant to be," said Grantham, smiling. 
Mr. Cordoba's path, meanwhile, started with his first teaching job fresh out of college at 21 years old as head band director of Andress High School. In his first semester at the school, he took the concert and jazz bands to festival and scored 2's (comparable to Excellent- the second to highest score). He developed a new marching band staff and started their first winterguard.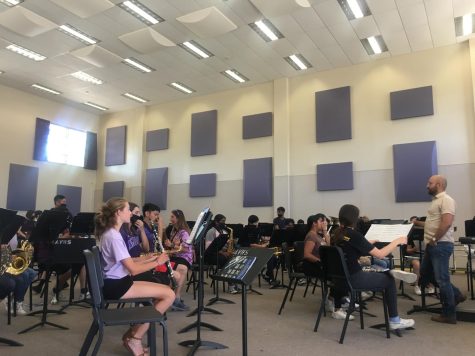 "I'll never forget showing up and setting up all the chairs in order and having music copied and just being so excited [to be a band director]. The school was in a lower socioeconomic part of El Paso, but they had so much heart," said Cordoba. 
Later, his mentor teacher called and informed him of an opening at Americas High School. The new school had a more comprehensive band program than Andress, with a world-class winterguard and highly successful bands and marching band. At the same time, Mr. Cordoba also faced the option of moving to California through his partner's new job. Ultimately, he chose to pack up for the Golden State. 
Since he didn't have a job lined up in the area, he started looking for job openings online, messaging band directors, programs, and principals. One of the first people he messaged was Grantham, as he had seen Amador's wind ensembles at the midwest clinic in 2019 and was fascinated by the excellence of the band. When he was informed that there was a job opening at Amador, he took the chance. 
"It came out that there was going to be an opening at Amador… Before I knew it I was interviewing, and here I am, a year later, now teaching. In life, you just have to just go for it and make the connections and get yourself out there," said Cordoba.
---
This year, Grantham is celebrating his 20 year anniversary of teaching at Amador. Even though it's been a long time, to him, it hasn't felt like that at all.
"One of the things I think is very magical about teaching high school students is that you all stay the same age- I know that you grow up and move on, but I'm always working with 14 to 18-year-olds, so there's a way that has helped to keep me feeling very youthful. Not in a way that I'm trying to be younger than I am, but there's a spirit and energy and humor and an openness that come with working with high school students that I just really enjoy a lot. In my mind, it feels like year six for me, and I know it's not, but it really hasn't felt like 20 years- it feels surreal to say it out loud," joked Grantham. 
When he first arrived at Amador in 2002, Pleasanton looked very different from how it is now. Although Grantham never felt unsafe on Amador's campus, he was uneasy questioning about whether it would be alright for him to come out as gay. Over the years, he began bringing his partner to some band events, but at the student level, he remained hesitant. However, after several instances of hate speech from members of the band, Grantham faced his students to address the anti-queer language and officially come out to his students.  
"I was so relieved. A lot of things I was afraid [of] were stories I had made up in my head. Because this was something I had kept to myself for so long, there was a lot of shame and fear around being rejected," said Grantham. 
Cordoba is also open about being a gay teacher in his work and to his students. When he first started, it took time for him to navigate accepting himself first over the priorities of the people around him. Today, he cites time and modern societal values as the factors that helped him realize himself.
"As I've gotten older, I've learned to love myself and that has allowed me to show up more authentically in all aspects of my life… It has been easier for me to be myself because of the climate of the world, and I don't take that for granted – we have to always appreciate those that came before us, for the road that they paved for us," reflected Cordoba.
---
The first time Grantham and Cordoba met in-person was during the interview for the Assistant Band Director position at Amador. 
"I had seen pictures of him before, but [my first thoughts] were that he was shorter than I expected," laughed Grantham.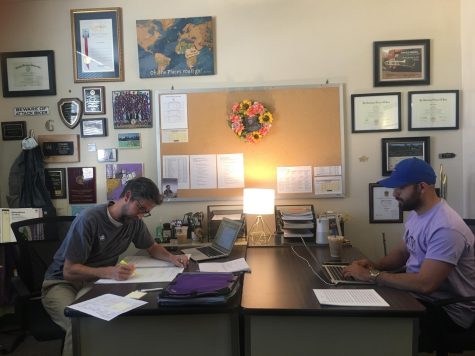 Both directors have a lot of fun in their work dynamic – a definite plus, considering the long hours they spend together working for the program. They engage in "divide and conquer" planning, where both directors map out specific tasks and take charge of them to complete. For others, it might be a challenge to work so intensively on details, but they're both formidable workers when it comes to efficiency.
"[Cordoba] has a lot of good ideas that he contributes, and he's really funny. We both have very quick sarcastic senses of humor, and so that's really fun to play off of as well," commented Grantham. At the same time, Cordoba laughed that "the groove where we just plan at a high level and are super efficient… that, first of all, makes it really enjoyable, like we have so much fun in the office just planning and being silly".
The constant motion of the program means that Grantham and Cordoba have amassed a supply of resources to help them organize.There are to-do lists and shared Google Docs. In the band office, there's a dry erase board with something always written on it, from future concert dates to section leader meetings. On the office walls lies a calendar, most days filled with events and times scribbled on the squares. Even so, for Cordoba, the workload is all worth it for the challenges he meets in turn.
"Growth is uncomfortable. If you want to be good, you have to show up with humility and ask for feedback. There are days where I don't want to hear feedback and want to just be a bad teacher, so learning how to be humble in this process of learning from [Mr. Grantham] and being better is really humbling," said Cordoba.
---
The Amador Band Program is huge. Grantham and Cordoba rely heavily on careful planning to ensure that the program runs smoothly. However, like everyone else, both band directors feel a sense of burnout at times. They've had to learn over the years how to prevent themselves from getting worn out from work.
"When I'm home, I'm really home. I have things in my life outside of teaching that help bring me joy and balance and keep me calm and in a good space, not just to help with burnout when it comes, but to give me some equilibrium- a work life balance. While Amador's band occupies a huge chunk of my available time, I balance the time out by making sure I'm fully content and invested in the things away from my job – my relationship, our cats, gardening. I think honestly, as a teacher and a musician, that we're not just one thing, so… because I have these other experiences to fall back on, it makes me a better teacher and musician because I have other things to draw on besides just being a band teacher," said Grantham.  
Similarly, Mr. Cordoba agrees that setting limits is an important lesson to learn to prevent yourself from total exhaustion.
"The whole burnout thing is like, when you're in your early 20s, throwing yourself into a career… [it's because] you have to establish yourself, there's so much growth to do, you just don't know anything, and with years of experiences come the wisdom to be a more effective teacher and work smarter not harder… [so it] requires that I establish boundaries within myself and that I leave work at work, so when I get home I can just be home," said Cordoba.
Ultimately, the two's partnership has led them to lead everyone in band to another successful season at the end of the year. Now, they're ready to look back, reflect, and then, of course, look forward to what they have planned for next year.
"It's kind of a unique experience as a band teacher that I get to spend four years with some of [my students] and see [them] as awkward ninth graders develop into confident, self-assured seniors," said Grantham. 
People sometimes ask Grantham what's next for him, and how he might top all the accomplishments he's gotten up to this point, to which he would respond that he's not interested in climbing ladders. He isn't someone who thinks of himself as complacent, but he has enjoyed his years at Amador because of his love for the students and the community.
"I really commit to things. Why would I want to step out and do something else when I don't need to [teach] somewhere else? I have what I like right here, [so] what's next for me is to continue to figure out how to do this job better and better as I step up to the plate," said Grantham. 
And for Cordoba, his love for the program is clear to see. For him, one of the biggest inspirational factors at Amador is the students' community and commitment to the vision of the program.
"For me, what's really cool about Amador is that it's the one place that I've been where we walk the walk and don't just talk the talk, where we have these values and do them and live by them and everything that we do in the relationships that we foster… It's about commitment and growth in everything," answered Cordoba.
Asked about their plans, Cordoba smiled in anticipation.
"We don't play duets as much as we should because we're too busy planning for [the band students], but in the summer we'll play duets and stuff. He's better than me though," he laughed.
Wherever the band program heads next, Amador is sure to watch as the band continues to grow and evolve with the guidance of two passionate and dedicated directors. 
Leave a Comment