Mr. Amador show culminates in stunning finish of an acclaimed run
On Thursday night, April 20, the much awaited Mr. Amador male beauty pageant took place at the Amador Theater, culminating in a total of two exciting shows full of quirky humor, genuine wholesomeness, and a bit of awkwardness as the boys set out to put on a wonderful show in front of an excited audience.
"It was great building a sense of community with all these boys, and everyone that was a part of it. At the end of the day, we're all just helping people out, and that just feels great," said Rithwik Shah ('23), Mr. Real Housewives.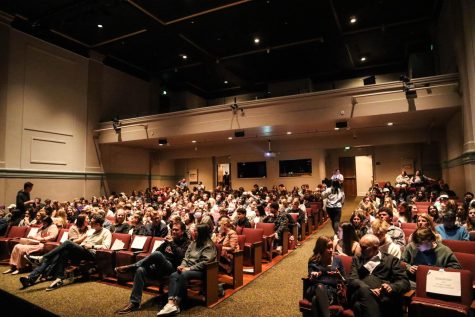 Adam Cowan ('24), Mr. Too Hot To Handle, cracked jokes all day long and managed a light environment around himself during practice, one that invited people to converse with him and give him a chance to perhaps better their day. However, there was not a second when he doubted his resolve to make the show a blockbuster, working himself as hard as any other boy for a cause he wholeheartedly believed in, and in the process forging such strong bonds with his fellow performers that they became second only to family.
"It was a lot of work, but it was a lot of fun too. I mean, these guys, we became so close over these last few months," said Cowan.
With flashy hip movements and sarcastic one-liners drilled into their heads after months of relentless practice, the boys were ready for any and all problems that could possibly arise during the show.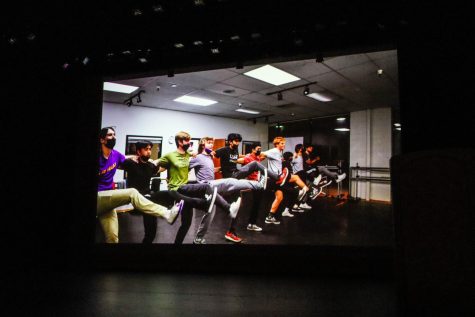 After a beautifully choreographed introductory dance, the boys held a Q&A session with a loved one of their choice–every question had its own amusing twist, and every answer incorporated a unique manner from each Mr. Amador candidate.
Matt Carter ('22), Mr. Jersey Shore, pushed himself to the edge to prepare for the show. All this preparation, sacrificing time to learn dance moves and understand the basics of improv, was but a way of fulfilling a pair of aspirations; to raise as much money as possible, for that was why he had joined the program in the first place–and also to provide a damn good show to the audience in front of him, to make them jump out of their seats, clap until their palms are red, and laugh until tears of joy blur their vision.
"I think he did a really good job. He had loads of confidence in himself, and it was really fun to watch him answer the questions with such pizzazz," said Sarah Carter, sister of Matt Carter.
The talent show ensued not long after the Q&A, where the boys parodied their respective reality TV shows to the fullest, even inviting their close friends to join in on the fun.
Sam Montoya ('23) didn't think for long before accepting a request to co-star with his friend Suvir Kheny ('23), Mr. Dancing Moms, in the latter's talent act. To work for the cause of unconditional charity was an honor to the junior, and he put his all into performing as a dance troupe with some of his closest friends. 
"It was actually a text from my friend Cheesy [Kheny]. He texted all of us and asked if we'd be into it and I knew it was for a great cause, so of course I had to say yeah," said Montoya.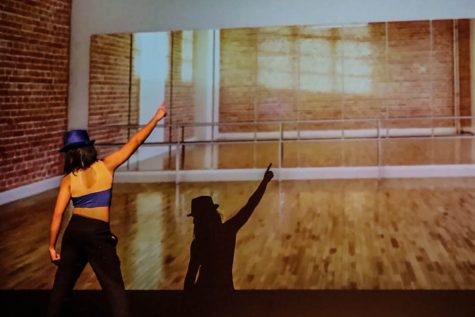 After the talent portion of the show, George Mark's Children House spokeswoman Jen McKay-Weber recited her late son's life story, recalling fondly how he was welcomed wholeheartedly into George Mark's Children House, and how the love and care with which the community took care of her son Atticus tied her to the palliative care center beyond his passing. Jen's story reminded the audience about how important Mr. Amador really is to George Mark's Children House, which primarily runs on donations and doesn't require a fee to be paid by the patient's parents.
"I loved the part at the end where everyone donated so much money to the cause," said Montoya.
Finally, after a highly anticipated auction–one where the boys auctioned themselves off to the highest bidder–a curtain call, and a round of raucous applause, the first show came to a dramatic but satisfying end. It was followed by a similarly exciting second show, the boys ready to break through and surpass any expectations the evening audience held for them.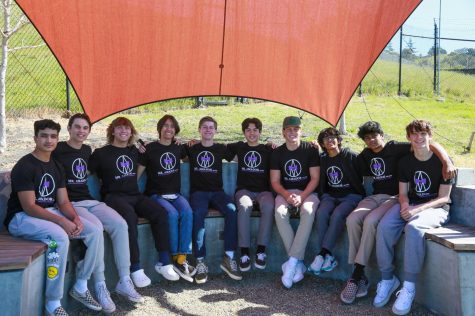 A thousand different thoughts ran through Rithwik's mind as he surrendered himself to his creative impulses. Reflecting upon mistakes from the last show, he found a thousand different ways to polish his performance, each with their own special twist, built around his own unique way of doing things. And when the audience roared its awe and approval in an enthusiastic standing ovation, Rithwik realized he and the other boys had tapped into their respective talents, revealing their creative selves to a keen audience.
"I was a little nervous at the first show, but then the second show, when everyone was there, I feel like me and my crew really shined out. We did the best we could, and I think the audience liked it," said Rithwik ('23).
And at last Mr. Amador 2022 came to a full end, a project in the making for the last year with a sole purpose- a joint effort for a cause worth rallying for.
"I'm so beyond proud of the boys. They've done better than I ever expected them to. They looked like they were having fun, and that's all I wanted them to do," said Cortney Fiske ('22), one of the directors behind Mr. Amador.
Ryan Lau ('22), Mr. Survivor, couldn't but feel a wave of melancholy hit him, as he realized this chapter of his life was nearing the end, closer than ever. But still he stood proud along with his fellow Mr. Amador candidates, for with their spectacular performances, they had changed the lives of many children–kids who should have lived a normal life, growing up in a loving household and aspiring for greater heights–by easing their pain till the end of their lives, surrounded by loved ones and the blessings of all who helped accommodate them.
"Oh man. It's really rewarding, I gotta say. A lot of effort [was] put in, and it was a little exhausting here at the end, but it was all worth it. I'm so happy, and I'd do it all over again," said Lau.
And so we have the next year's show to look forward to, when a completely new crew will inherit the philanthropic cause and deliver on their promise to raise as much money as possible for the George Mark's Children House while ensuring a fun and inclusive environment for all who wish to attend.
Leave a Comment