"The opportunity of a lifetime": Amador DECA students attend state conference
After the NorCal Career Development Conference at the beginning of January, Amador students in the business club DECA went forth to attend the California State Career Development Conference (SCDC) at Anaheim, where they competed for a spot in the International Career Development Conference (ICDC) in April.
"I'm proud of every DECA student that had made an effort. Whether they placed or not, the fact that they got out of their comfort level and challenged themselves is amazing. I think you have to love what you are doing to be successful… so as long as they achieve that experience, whether they placed or not, they're winners in my heart," said DECA club advisor Ms. McDonald.
For four days and three nights in the Marriott hotel, 35 Amador students strategized and competed in the state conference.
"Coming back from the pandemic, I'm really proud of what our members achieved at the states development conference because it was definitely hard for people to adjust and it was many people's first times having an in-person conference except the seniors. It was a really humbling experience… since this opportunity meant a lot to me as it really is—at least to me—the opportunity of a lifetime to qualify for ICDC," said Andrea Yang ('23), DECA Vice President of Administration. 
From coordinating transportation, admin paperworks, and members, the Amador Valley DECA officer team and mentors put in all they had in addition to their own participation to ensure the smooth running of Amador DECA's attendance in the state conference.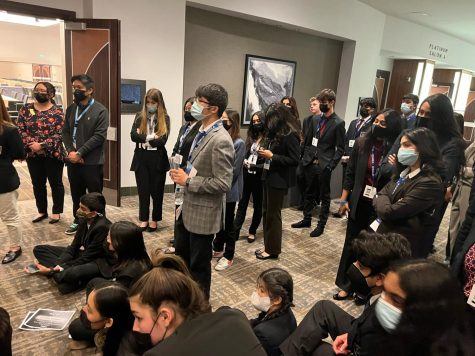 "The process of signing up for the conference was really stressful because there were so many different things that needed to be completed before we could go, but it was all worth it when we got to see so many people from our chapter do amazing in their events and qualify for the international conference," said Allyson Chan ('22), DECA Co-President. 
Amador participants prepared for their roleplays, cluster exams, and written presentations, each aiming to either place top five overall for roleplay or top four overall for written to gain the qualifications for ICDC. Through some after school workshops provided by the Amador Valley DECA officer team and additional preparations for their own event, the students were ready to compete as they arrived on February 24.
"I spent around 80 working hours on my written [presentation]. Looking for examples, stalking and DMing past winners on Instagram, and then obviously writing the actual thing… [plus] I spent around 15 hours making slides, scripts, props, memorizing lines, as well running through it a dozen times," said Leo Shao ('24), qualifying candidate for ICDC. 
The conference wasn't all stress and tension, however. DECA students enjoyed themselves outside of the competition at California Adventures, an activity on Friday for the SCDC participants. Yet many students had one thing in mind: the awards ceremony on Sunday that would announce the qualifying candidates for ICDC.
"I was excited to see how I would perform, what my roleplays would be, the people I would meet, and the challenges I would get. It's super exciting being at the conference because you have so many opportunities to learn more, to explore the world of business, and so much potential to win something to take you to the next round of competition!" said Samaira Mehta ('24), qualifying candidate for ICDC.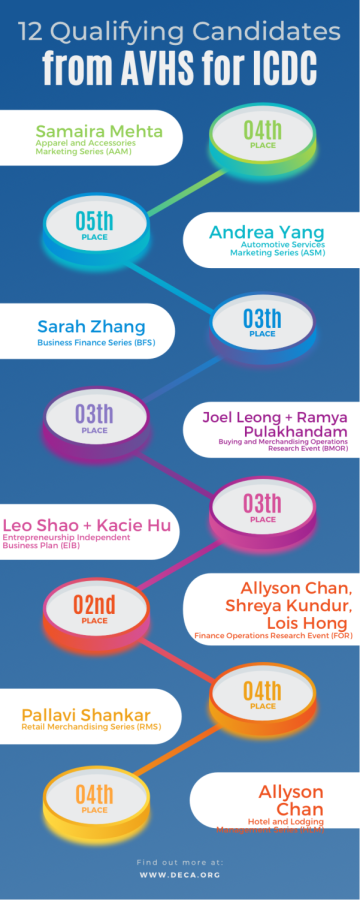 As the awards ceremony began, the efforts of the Amador DECA students did not disappoint as 12 Amador students qualified for the ICDC conference in April at Atlanta, Georgia. Many returned home with a glass trophy by placing top three, while others were awarded medals by placing fourth or fifth in their respective sections.
"My favorite part of the conference was seeing our members on stage and even seeing some of them place [for ICDC]! I am so incredibly proud of everyone because I know how much work and tears they put in over the last few months and I'm so happy that they get the chance to fly to Atlanta!," said Sara Vannoni ('23), DECA Vice President of Chapter Development. 
The Amador Valley DECA community celebrated each other's success and efforts in turn as they were announced in the awards ceremony. The candidates are now working harder than ever after their qualifications with the goal of replicating their success in ICDC.
"DECA is always a really humbling experience, because no matter how much work you put in sometimes—you can really just get nothing out of it. I had a lot of fear and anxiety and I thought that I wouldn't be able to get anything [glass trophy or medal] out of it. And I was expecting at best fourth or fifth place, and when they called my name for third place and I got a glass, I was really, really, overwhelmed and glad that my hard work paid off," said Sarah Zhang ('23), DECA Vice President of Logistics. 
Regardless of qualifications, this state conference was a learning experience for Amador's chapter to better prepare for their events in next year's conferences next year or the next stage, ICDC, where they will compete against schools internationally as well as across the nation.
"DECA has played such an important part in my high school career, and joining this club has given me some of the best memories and friends, and I am so excited to attend my final DECA conference this April in Atlanta," said Shreya Kundur ('22), DECA Co-President. 
Leave a Comment