Boys Basketball takes a loss against Foothill on rivalry night
On Tuesday, February 15th, Amador's boys basketball team suffered a loss against their rival team, Foothill. 
Both teams started the game quarter with high energy–as did the crowd. Students from both Amador and Foothill filled the large gym with chants and cheers, hyping up their players. The quarter ended at a 2-possession game, Amador with 7 points and Foothill with 11.
By the second quarter, the struggle from Amador's players was becoming evident. However, despite the disparity between the two teams' performances, each scored ten points in the quarter. 
After halftime, the crowd was beginning to fear for the outcome of the match. The third quarter had more turnovers than the whole first half, and AV's rebound game was slowing down. The two halves of the student section were battling out who could be louder, and the quarter ended with Foothill at an 11 point lead of 36-25.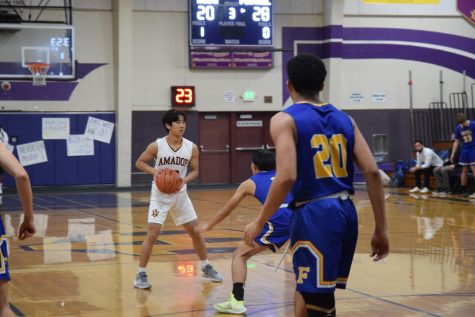 In the fourth quarter, Amador hit a huge slump in shot accuracy, but almost made it up with the energy and positive vibes. The players had the fight, but in the end it wasn't enough for a win, with a final score of 55-33.
"Overall, we weren't supposed to win as many games as we did this season. Our team was a brotherhood and we were led by a great coaching staff," said AV basketball player Jesse Huang ('23). 
This was the team's final game of the season, for an overall record of 12 wins.. 
"Though the season didn't end the way we wanted, we can come out of this season as brothers and learned so much on and off the court," said Huang.