Morgan Notari ('22) gets perfect score on AP Studio exam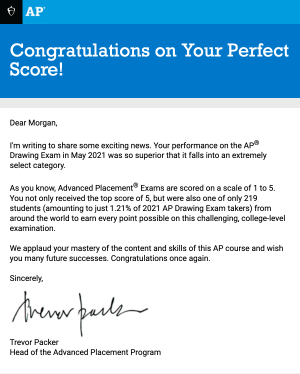 When Morgan Notari ('22) submitted her portfolio for the AP Studio Drawing exam last summer, she didn't expect an email from College Board a few months later notifying her of a perfect score, a grade only 1.21% of AP Drawing test-takers receive.
"I was just getting ready in the morning and they sent it to my mom instead of me, and she gave me a text and I just couldn't believe it. I was just so amazed, I was not expecting that that day," said Notari.
Unlike other AP exams with a question-answer format, the Studio Art: Drawing exam required a portfolio of the year's work, and Notari went above and beyond in her subject matter.
"My theme was 'the human journey with struggle', and when I pictured struggle, I pictured this black inky substance and I had a kind of feeling I was going for. At the beginning of making the portfolio, I knew I wanted it to be more of a story because that's what I'm drawn to as an artist. I like telling stories through the stuff that I draw," said Notari.
Creating and telling stories through art isn't anything new for Morgan. Since she started drawing at three years old, she was always drawn to storytelling through art.
"I started out by drawing faces — faces are something that I've always loved to draw, and it was actually more the story element of art that really got me into it," said Notari. "I wasn't really even interested in the drawing at first, it was more being able to tell stories through it."
For her portfolio in particular, Morgan chose a realism style with colored pencils and used herself as the subject for the entire project.
"I wanted to choose a different subject other than myself, but it was over quarantine. I couldn't really see people and none of my siblings wanted to do it," laughed Notari. "I really wanted to do my sister, but she wasn't up for the hours of taking reference pictures, so I ended up choosing myself to be the subject."
Notari plans to major in animation in college, and has already created animated pieces of art, including a one-minute animation titled "The Artist's Zone". The short film depicts how an artist feels as they create.
"What I think is exciting for Morgan as she takes on the challenge to become an animator, is that success like this can make you sometimes want to stay in a safe place. Something that Morgan is willing to do is continue to grow and take risks and that's what her willingness to take on this new challenge impresses me the most," said art teacher Michael Doyle.
Morgan's first experience of putting her art out for critique has helped her gain the confidence to continue sharing her pieces.
"The process of sharing your art for the first time is kind of a scary thing, especially for artists. Art is very personal to us, and sharing it for the first time can be a little bit overwhelming, but now that I've shared it, I definitely feel more inclined to share it more in the future," said Notari.
Leave a Comment