Girls Tennis wins EBALS undefeated and moves onto the NorCal CIF Tournament
After winning EBAL with a score of 22-0, the girls' tennis team is moving onto the NorCal CIF Tournament this weekend. 
This final tournament will end off a season of hard work, perseverance, and sacrifice. 
Before NCS 
At the Battle of the Bay Tournament, the girls joined forces with Foothill. Together, the two schools helped East Bay defeat North and South Bay schools.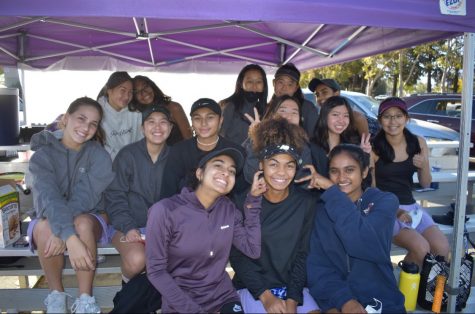 "Teaming up with Foothill was fun! We can be rivals for the sport, but personally, I have a lot of friends on that team so uniting wasn't hard at all. We can still keep up a friendly rivalry for league matches later on. Players support each other, and that's that," said Angelina Ma ('22). 
Despite winning every match during league, it wasn't always a piece of cake for the girls. The first league match against Monte Vista was a tough battle, with the first day ending at a 4-4 match tie.  Nonetheless, a tiebreaker game four days later allowed Sarah Yang ('23) to secure the win in a 3-setter match. 
"After the match I was super stressed because I really wanted an undefeated season for the team and as a record for myself- I even cried the next morning. But it got better over the weekend, since I practiced with my friend who hits a lot like my opponent. Also, I know how to stay calm on court and I don't get nervous easily," said Yang.  
After league, the EBAL tournament determined the best singles and doubles players. While Montana Parkinson-Lubold ('24) took the singles win, Aditi Pattanshetti ('23) and Maya Sendler ('23) won for doubles. 
At the NCS Individual Tournament
Just like EBALs, NCS has an individual tournament as well. Though singles player Parkinson-Lubold took an automatic spot, the doubles players had to play through a qualifying tournament.  
After three days of tough matches against the best doubles teams in the East Bay, Sarah Yang ('23) and Kruthika Gowda ('22) reached the final match—only to be pitted against their own teammates.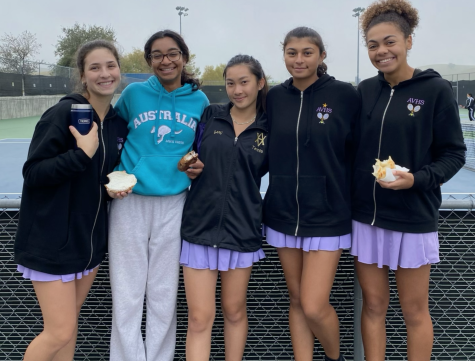 "[It] was definitely an experience. I've never had to play my own team, so playing them in the finals was very nerve-racking. While there was definitely some tension during the match, I think both teams did amazing and we should be very proud of how far we came," said Gowda.
The three winners, along with runner-ups Aditi Pattanshetti ('23) and Maya Sendler ('23), headed off to the NCS Individual Tournament. Unfortunately, only Yang and Gowda made it to the second day; they lost soon afterwards.  
Even though none of them won, the Amador girls made their opponents work for their wins. All losses were 3-setter matches.
At the NCS Team Tournament
During the first three days of team NCS, Amador had three clean sweeps, landing them in the final match against Mission San Jose. With both schools being undefeated in their respective leagues, the match score held at a stressful 3-3.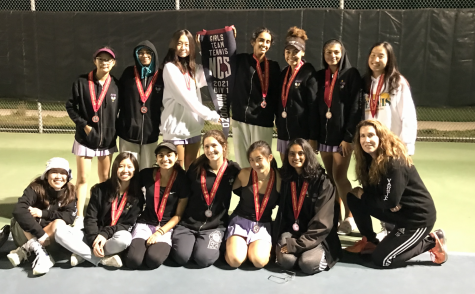 "Before a match I like to do things that make me happy, so I usually listen to music, specifically 2000s pop. During tournaments, I just try to stay positive and tell myself that it doesn't matter if I win or lose—I'm just there to have fun," said Montana Parkinson-Lubold ('24). 
Following a four-hour final match, the day ended at 3 sets and 2 set tie-breakers, putting Amador at 2nd place. The loss against Mission San Jose was the girls' first—and only—loss of the season. 
Heading to the Norcal CIF Tournament  
"This year we have a really strong team and I have a good feeling about how we'll perform. We've all grown quite a bit since the beginning of the season, and the new freshmen have found their rhythm and have adjusted really well to competitive tennis," said Aditi Pattanshetti ('23). 
Of course, the team's accomplishments have been the result of hard work both in and out of practice. 
"Practices required each player to focus on needed skills, adapt to whatever opponent they expected next, and to give up personal time to make sure they did their part for the team. A coach seldom has a team with such talent, drive, and enthusiasm. It's been a great pleasure to work with these athletes," said girls tennis coach Claire Chinn. 
The season has not only invigorated junior and senior players, but it has inspired the underclassmen as well. 
"It is really exciting that I was able to be a part of such an amazing team as a freshman. I did not expect my first season to be this eventful, and I still can't believe that we have made so many accomplishments in just one season," said Sanvi Sharma ('25). 
On Friday, the team will play to close out the season at the NorCal CIF Tournament against Rocklin. 
"I don't want to go in with super high expectations since I have no idea what to expect, but I know that our tennis will speak for itself," said Pattanshetti.