Band marches on amidst pandemic
Kevin Zhu, Senior Staff Writer
October 16, 2021
The Amador Valley marching band has made extensive accommodations in order to keep performing and practicing safely during the COVID-19 pandemic.

Jonathan Grantham, the head director of the Amador Valley band program, approaches the situation with organization and well-outlined plans in order to remain compliant with the health and safety guidelines of the county. 
"My general approach to approaching the pandemic has been flexibility and to be able to think creatively in order to keep students safe while also following the protocols which change pretty regularly," said Grantham.
Masks
Marching band is outdoors, meaning that 6-feet of social distancing when masks are off is not required. However as of October 7th, due to rising COVID-19 cases, bands' policy has been shifted from "not required" to "recommended.
"Generally as a cohort the band and guard students are always pretty responsible about masking," said Grantham.
Many students follow the mandated mask policy on their own and try to wear their mask as often as possible when they can. 
"I always wear my mask when possible," said marching band member Sehyun Park ('25).
Testing

The band also has to make other accommodations that have greatly altered the large groups' norms and traditions. For example, indoor concert band members have to get a weekly COVID-19 tests every Monday. 
"We work with what we've been given. I'm glad that the school district is willing to do the testing so we can play indoors," said Grantham.
While Grantham says that the National Society of Musicians state that aerosol spread due to instrument playing is minimal, the state regulations seem to have ignored this and still require that wind players be tested weekly as an extra level of precaution.
"The California Public Health Department has required that for indoor music making that students have to sit 6 feet apart or undergo weekly testing. That 6 feet apart requirement does not follow the recommendations of science and data collected from national music organizations that states 3 feet apart is safe with PPE," says Grantham.

The decision is not entirely unjustified, either. Band members have to attend every home football game to play pep tunes and provide spirit, in addition to hours and hours of practice they spend in close proximity with each other without masks, even if they are outside. Competitions can also be a problem, as many other school's bands will also be present in the same performing stadium's area.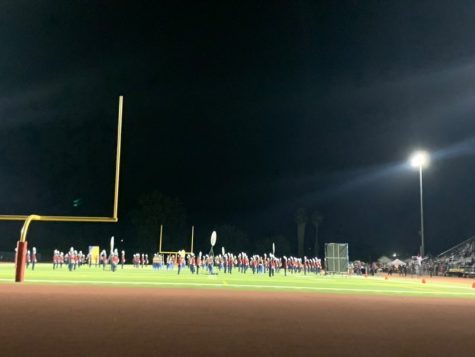 Uniforms & Equipment
The pandemic also caused problems in other aspects, most notably shipping problems involving uniforms and gear. 
For Grantham's 20th anniversary of teaching at Amador, band program members planned a celebration with music and ordered special shirts. However, the shirts were unable to be shipped in time for the performance, coming two weeks too late. 
"Supply chain [issues are] real," said Grantham.
The band is also unable to march with their traditional uniforms and attire due to pandemic-related concerns.
"When we made these decisions[concerning uniforms], there was a lot of concern about COVID being passed through the contact of surfaces. The plumes, the gloves, and the gauntlets, all the things that were shared parts…were balanced with a pragmatic decision on what we felt was safe," said Grantham.
Band, however, is a tightly knit community that values the support of each other, mentally and financially. Thankfully, money is not a concern, and neither is support from parents, alumni, and between the current members of themselves. 
"I have been truly inspired by the resiliency of the Marching Dons and believe that we are on track for one of the best seasons ever," said Grantham.