Track & Field Meets and How They're Training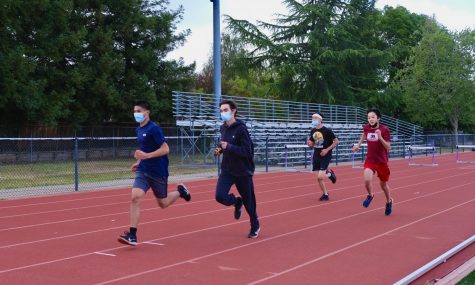 Complying with the new health and safety measures, the Amador track team has started to train and even ran their first meet, the Dan Gabor Invitational, on April 3rd. Due to Covid restrictions, many sports have been unable to train. As a result, many track participants have expressed their happiness for the recently started season. 
"My favorite part of track is the community. I should also say running, because that's why I'm there, but I know personally that running on your own is not the most amazing experience. Having a team there with [you] makes track amazing," commented distance runner Dahlia Versteeg ('23). 
Though the season has started, the experience has been vastly different because of the mask mandate and social distancing measures. 
"One thing I noticed is that there are definitely less people on the team… [and] at the meets, there are less schools and audience members in attendance in order to prevent the potential spreading of cases. In general, our races and practices are being run similarly; the only change has been the addition of masks and very little interaction between the different sections of our team," responded hurdler Sara Vannoni ('23).
However, the sport has remained fun for most due to the social interaction that occurs during practices and meets. Despite the circumstances, this year's track season has definitely been a memorable experience.
"I enjoy track because I'm good at it, and it's fun and satisfying to get faster and stronger. It's very fun because you can have fun with friends while getting outside and exercising, [and it's] very fun to compete against other athletes," remarked sprinter Tim Lester ('22).