Drake EP: What does it entail for his next album?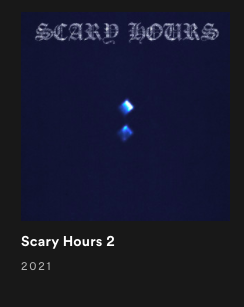 Drake released Scary Hours 2, his latest EP, on March 5th. It's a teaser to his highly anticipated album, Certified Lover Boy, that was postponed due to the need to "touch up" on some aspects of the album.
His last mixtape, Dark Lane Demo Tapes, had social media bangers like "Toosie Slide" and "When To Say When" that sparked new trends on platforms such as Twitter and TikTok. However, reviewers described the mixtape as "bloated and unnecessary" (NME's Luke Morgan Britton).
Many fans believed that Drake's latest projects have been nothing but unpolished copies of Scorpion, according to the many reviews by Pitchfork. While his old projects gave a very R&B/old school vibe, his new ones have been a mishmash of very specific genres; such is the case with "War" (UK Drill). 
The features on his albums were also very inconsistent and many of them just didn't fit with the mood of the songs they were featuring in. "In My Feelings", a light-hearted, moody song about desperate love is cut short abruptly by an ill-suited City Girls feature that diverts the theme of the song to violating male chastity and the life of a gold digger.
However, Drake takes a step towards his old self while retaining his want for the latest buzz with Scary Hours 2, his classic freestyle rap being amplified by the quality features that absolutely shred their part in the songs. 
In "What's Next", Drake chooses to let go of any maturity and goes berserk, rapping about his doings during popular holidays such as Valentine's and flexing about his grand lifestyle built entirely by his hard work. The song, while not as thought out as his classic bangers, provides a careless view of Drake as he creates a song that is listenable to the extreme.
"Wants and Needs" showcases Drake's subpar melodies mixed with a fair share of rapping, but the factor that makes this song so good is the absolutely addictive Lil Baby verse, where he goes on to just overshadow Drake, with his rapid fire and melodious rapping sealing the deal. 
"Lemon Pepper Freestyle" proved to be the song where Drake spoke his heart out, talking about his current mental state and how he believes himself to stop wanting and needing more. A solid start from Rick Ross proves to be a great choice as it gives the listeners enough time to brace for Drake's inevitable masterpiece of a freestyle.
Many fans have been looking forward to Drake's redemption with the incoming album Certified Lover Boy. The title of the album tipped fans off with the very indie sounding titles that Drake used to come up with for his old albums, such as More Life, and Nothing Was The Same. 
At the same time, fans were nervous that Drake would stray further and further from his old self, but the arrival of Scary Hours 2 helped  dissolve those concerns as Drake has finally found his own spot in the clash between old school and new genres.
Certified Lover Boy is bound to be an incredibly popular album, and Scary Hours has helped provide an understanding to fans of where Drake is going to be taking us for his latest venture into rap music.