Controversy over Grammy nominations with The Weeknd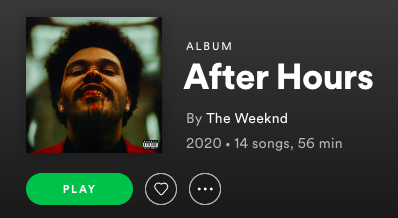 The Grammy Awards did not nominate The Weeknd in any category this year. With his single, "Blinding Lights", and other songs from the album being synonymous with 2020 itself, "After Hours" is at the top of many critical and commercial charts. He led several expert-prediction lists for the Recording Academy's nominees.
The Weeknd spoke out about the Grammy snub on Twitter.
"You owe me, my fans and the industry transparency", said the artist. 
The Grammys responded with a statement stating that "unfortunately, there are fewer nominations every year than the number of deserving artists." Even the Recording Academy president made a statement as well.
"We understand that The Weeknd is disappointed at not being nominated. I was surprised and can empathize with what he's feeling," said Harvery Mason Jr., the Recording Academy president. 
In recent years, it seems to be more apparent that there may be internal conflicts affecting the choice of nominees. The crushing blow of  "After Hours"  at the Grammys comes less than a year after the Recording Academy's ousted CEO accused the decision-makers of not engaging in a transparent selection process. 
The Weeknd has been a beloved artist for the past decade. It is interesting not to see the singer's talent recognized in any category.
New and old fans are outraged. Many celebrities and fellow musicians spoke out, such as Charlie Puth, AKON, Kid Cudi, Tinashe, and more. After significant snubs in the past, it's not surprising that a prominent and relevant and commercially successful artist with a popular album fell short.