As elementary schools prepare to reopen, attention shifts to middle and high school
An email by Dr. Haglund, the Superintendent for Pleasanton Unified School District on October 19, detailed the reopening of elementary schools by January 4th of next year.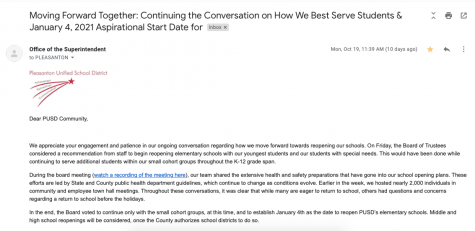 However, there is no current evaluation as of now  regarding the full reopening of middle and high schools.
"Where we are at right now, the county does not allow the opening of middle or high schools," said Superintendent Dr. David Haglund. 
However, as time moves on, there may be a chance that the schools are talking about reopening the secondary schools given suitable conditions. 
"The county health department talked about [reopening] elementary first, then middle, then high school rolling over a time period of 4 to 12 weeks. So if the first date the schools can reopen was on october 13, in the best circumstance, they would be talking about high schools reopening on january 13th," said Haglund.
Many teachers are enjoying their classes this year, even in the face of challenges. 
"So far I'm actually really enjoying my classes from this year even though it is harder to get to know people the same way virtually, but I feel like people are still getting a similar value in the classes and I feel like we are still having fun and learning a lot. It is certainly worth the inconvenience for our health and safety," said English teacher and Comp Civics coach Stacy Sklar. 
Some teachers would prefer other methods of teaching when school resumes. 
"I would like to do as much outside as I could . . . Obviously there are limits on that because of the weather. But if there is a lesson that can be configured to be taught outside, sitting on the grass, then I would do that whenever possible," said History teacher and football coach Chris Murphy. 
However, they want to go back to school as soon as it is safe to do so. 
"I would say that in-person classes are almost always richer than online. There are certain advantages such as online guest speakers. For example in comp civics, I have had alumni from the East Coast," said Sklar. 
Many students this year, especially seniors, want to go back to school to see their friends and teachers again. Others are feeling rather tired from learning from home. 
"I am starting to feel the slack of online school. It's especially hard to find motivation to keep going when we're all stuck at home. I do hope to go back, since I'm a senior, because I want to see my teachers and classmates one more time before we part ways," said Grace Chen ('21).
Some students do not want to go back to school because they enjoy online learning. 
"I personally lowkey don't want to go back to school because of the extra free time I have in online school. On Wednesday we have pretty much the whole day off and we can finish our homework and study for tests or take a nap if we feel like it," said Joe Dai ('23). 
Sports are also affected. The CIF, California Interscholastic Federation, has issued guidelines for activity guidelines.
"Now they are saying that the date to reopen [sports] is December 7. And as long as they don't change that, then we would be wanting to provide opportunities for students to safely practice to ready themselves for the competitive play," said Haglund. 
Even now, sports teams are preparing for their season.
"Most sports have been doing off season conditioning, what we call clinics. It is not technically practice. It is what we are doing in regular times in the summer," explains Murphy.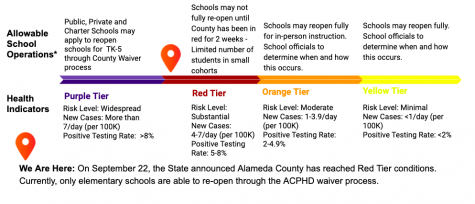 For more information regarding the elementary schools, check out the October 16th meeting. Amador Valley Journalism will continue to add more updates to this article as more information is released in the future.