Substitute teachers start remote tutoring with 30 minute Zoom calls
In the past week, the PUSD Board has decided to commence remote tutoring sessions held by substitute teachers. These classes are meant to help students with their asynchronous as well as synchronous work, and they will last 30 minutes.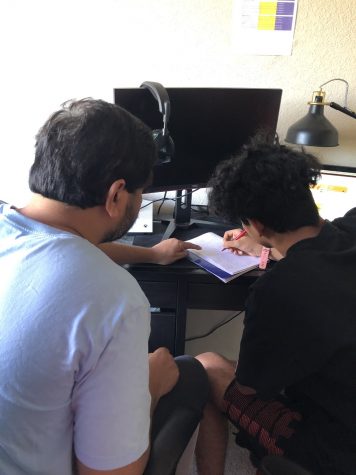 Substitute teachers are school staff whose primary job is to fill in for a class when its full time teacher is absent. Now that remote school is active, many express doubts about the need of a substitute teacher when a full-time teacher can teach from their homes. 
"A reason why I still see a need for substitute teacher is in the event of a teacher falling so ill that they can't possibly teach a class in their condition," said Ms. Battilega, AVHS Honors World History and US History teacher.   
AV Leadership is a vital part of an Amador Valley student's school life, and their opinion is respected throughout the school (whether it be on decisions they've made themselves or ones made by the PUSD Board).
"No. Leadership was not involved in the decision. For what I understand about the program, I believe that some students are really struggling with understanding concepts in this remote format. While teachers are definitely making an effort to make themselves available, some students need additional assistance," said ASB President Megan Sloan ('21).
Students worry that substitute teachers won't have the knowledge necessary to tutor them, as they are likely to ask highly specific questions from their exclusively taught classes. 
"I guess, that while it is inconvenient, beggars can't really be choosers; we [have got to] choose something, instead of nothing. And it's not like the substitute teachers have no knowledge of the subject they're teaching," said Rylen Sabhlok ('23).
As observed by many Amador Valley pupils and staff members, students tend to let themselves loose if a substitute teacher is present.
"Personally, with the fact that there's no interaction between teachers and students in Zoom classes, which is often looked down upon, and that students rarely unmute themselves and even say hello, it's gonna be uncommon to find someone feisty enough to say something to a substitute teacher's face, let alone make a rude comment," said Sabhlok ('23).
Understanding is a crucial part of learning, and many believe that students would have a harder time understanding substitute teachers than other more specialized teachers.
"I believe that a teacher should be able to help a student understand the answer to their question, even when they don't know the material themselves. They should seek out a way to make the student understand, even when it requires a specialized staff's attention," said Sabhlok ('23).
Tutoring sessions are helpful ways to study and learn what is taught at school— even when they're taught by substitutes. The teachers will do their best to make sure students learn and understand.