UC system goes test blind starting immediately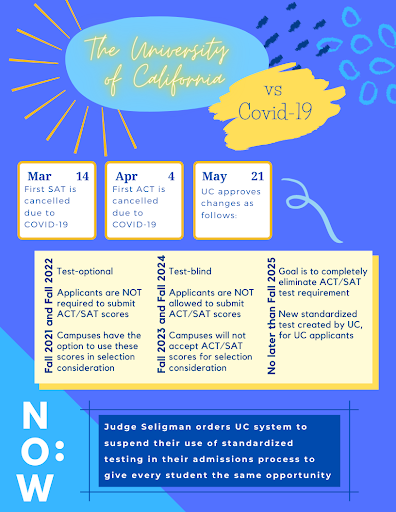 Earlier this month, one of the country's largest university systems, the University of California, was ordered to put an end to their consideration of standardized testing in the admissions process. 
According to EdSource, UC system attorneys claim that submitting scores can only help applicants, not hurt them, as this gives them a second chance for consideration. That only some students have this advantage is particularly harmful to students with disabilities, as they have not been able to access testing during the pandemic. 
"I plan on applying to at least one or two UC's. To me it doesn't worry me, it makes sense to me. So many kids haven't been or won't be able to take the ACT or SAT this year due to COVID, so it wouldn't make sense for them to require test scores. I was lucky to have been able to take the test, but at least I have the option to not submit my scores," said Katie Jones ('21).
While students often plan their SAT and ACT testing for the second half of their junior year as well as the start of their senior year, the COVID-19 pandemic forced testing cancellations as early as March. 
"I started preparing for the ACT around 6 months ago. I was hoping to take as many tests as I could until I got the score that I was satisfied with and that I thought would help my chances of getting into the schools I want to go to," said Josh Freeman ('21).
It was in late May of this year that their board of regents first approved changes to their standardized testing requirements, deeming themselves test-optional. This came as a shock to many, but even more shocking now is their being ordered to go one step further by going test-blind.
"I am planning on applying to schools in the UC system and I am a little worried about this order since I worked hard for my tests, but I think it will be fine in the end," said Simona Matsoyan ('21).
As college admissions are growing increasingly more competitive, students are willing to devote months to SAT and ACT preparation. This isn't just a consideration of time, but money too, and the New York Times calls this engagement "a college admissions 'arms race.'" 
"I started preparing for the test the summer before junior year with a tutor outside of school. I wish [schools] weren't [test-blind or -optional] because I put a lot of time into preparing for the tests so it is a little upsetting. But I understand that it is a fair thing to do because so many students did not have the opportunity to test," said Matsoyan. 
When UC announced their proposal in May, giving the classes of 2021 and 2022 the option of whether or not to submit their scores, it was likely to acknowledge the hard work they knew that some seniors and juniors had already put into preparation.  
"I started prepping for the SAT this past summer. I plan on applying to UCs and I was expecting my test scores to help my chances of being accepted so the court order worries me a little. I don't think the current changes to the application process will apply to the class of '22 because I have heard that these changes are only relevant if COVID-19 restrictions are still in place," said Saif Rajabali ('23).
It is no doubt that there are mixed feelings about the suspension of standardized testing, but this could pave the way for a future, more genuine, college application. NPR elaborates on how colleges are considering putting more focus on students' character. 
"I honestly think colleges going test blind is not a bad idea because scores are heavily influenced by the students community as well as how much practice the student receives. In this sense I think it is unfair for less fortunate students who don't have the opportunity to get as much practice as other students might," said Rajabali.
While the University of California system may be fighting this right now, perhaps this order will cause them to see their applicants as people, with personalities and accomplishments, rather than a bunch of numbers on an application.