Movie Review: 'Chemical Hearts'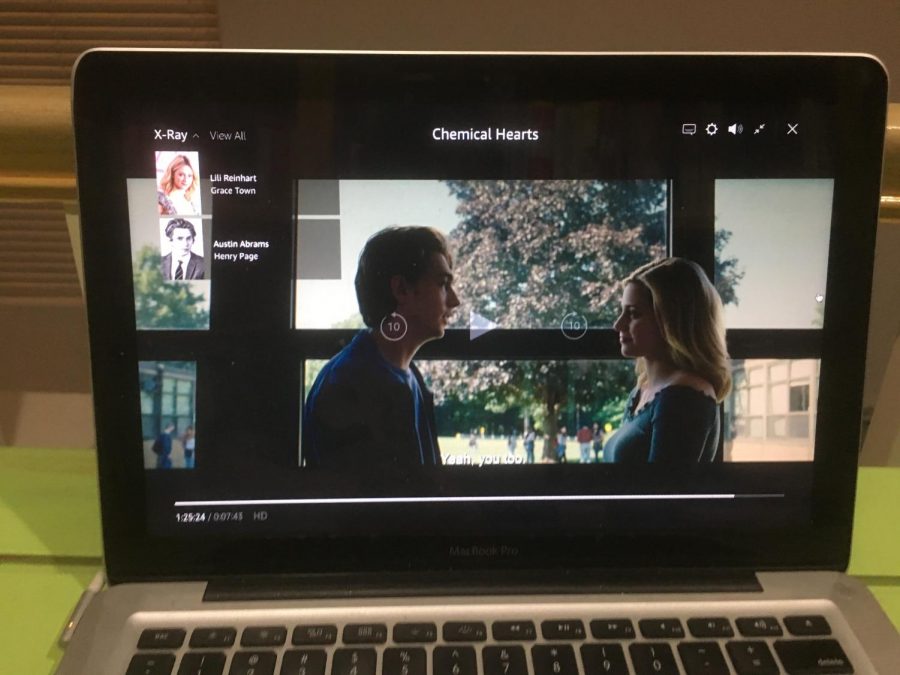 With a smoldering hot kiss scene as it's interesting movie trailer, the same cannot be said about the plotline and characters in the movie, Chemical Hearts.
While the movie can be said as having filled with raw emotions of heartbreak and that it had perfectly expressed that love may not always be beautiful in one's teenage years.
The cons far outweigh any pros that the movie might've had. All the way from the lack of character development, choice of actors, a plotline that made little to no sense, and the mere scarcity of chemistry between the main characters. 
Character development is needed in every movie to grab the attention of the viewers and to have them engage into the plot. It's the job of the actors to make the character they're playing out likeable to the general public. However, I don't think we ever truly feel connected to the characters as an audience. 
The set-up for the movie is when Grace Town (Lili Reinhart), a girl who had lost her boyfriend to a tragic accident, starts spending time with her new co-newspaper Editor-in-Chief, Hentry Page (Austin Abrams).
However, throughout their relationship timeline, she was still emotionally traumatized by the death of her former boyfriend, yet repeatedly led him on and asked him for support. And when confronted by Page, her response had only made her seem childish in the viewer's eye.
"I'm giving you all that I can, and this confusion and this craziness is what that looks like and you can't handle it. But I never expected you to. What else could I possibly give you?" said Town to Page after being confronted about her feelings at her deceased boyfriend's room, which she lives in. 
Despite any sorts of attempts to find a grappling trait to like about the characters, I simply couldn't find any. Except how unnecessarily sassy Town's character has to be or how Page is supposedly a hopeless romantic when not a single romantic trait of his was shown in the film.
With only his rather alarming stalker behavior of Town on Facebook, Google, and even went as far to follow her to her deceased boyfriend's grave.
On the choices of actors in the movie, it may even seem that Reinhart was there to make up for the absence of an interesting plot line. And to have her renowned name on the list of actors for the film felt like a casual attempt to boost the ranking.
Being that Reinhart was also known for playing the role of Betty Cooper in the famous teen drama series, Riverdale. She's a high name actor that's sure to draw some attention to this headless teenager film.
Some scenes were only consisting of plain rudeness from Town to the poor journalism teacher and Page to his perfect couple parents when the two broke up. 
And as for the puzzling and incomprehensible factors in this movie, it inevitably created a plot without any sense of direction nor roadmap leading up to a flat climax. It surrounds Page discovering more about Town, such as her traumatic past that also led to her disability.
Confusing events popped left and right from figuring out the theme of a new issue of the school newspaper together, entering an abandoned factory that Town invited Page into, and a Halloween party that led to Page losing his virginity. They might have some correlation between each other, but it had only swayed the focus of the movie, if there was even any in the first place.
After the whole indecisive ordeal for Town on her getting over her deceased boyfriend, repeatedly leading Page on, and to cry or pick a fight with Page on every single detail possible during their interaction.
The plot eventually fell dead flat with them parting ways and only talking once again after their senior year ended. 
Chemistry, something that practically makes or breaks any film in the romance genre, and it's also something that the two main characters in the Chemical Hearts very clearly lack.
The two had started off from Town driving Page home a couple times and slightly bonding over Page's insistence to connect. Before a forced transition consisting of streams of poetic lines and soft melody whipped the two up into a romantic relationship that neither of them seems to fit into.
The played out chemistry in the film felt bland and stale without any significant emotions that the audience could possibly remember as a memorable scene. Apart from the quite excessive and filler scenes of awkward kissing between the two, of course.
Chemical Hearts could be said to have the heartbrokenness of Town over her passed away boyfriend portrayed well on multiple scenes. They almost seemed to stress the heart broken factor too much considering that this is about the relationship between Town and Page, which had only ended up quite random from the very beginning to the end.
The film name Chemical Hearts had only made relative sense from Page's sister spitting science facts whenever she pops up and the terrible theme of their school newspaper issues about each stage of brain maturing.
There are many good movies on Amazon Prime, and I can confidently say that you're definitely better off watching another. I wouldn't place Chemical Hearts anywhere near the top of the list of movies to watch on Amazon Prime, or anywhere else.