The Owl House: Disney's First Openly Queer Cartoon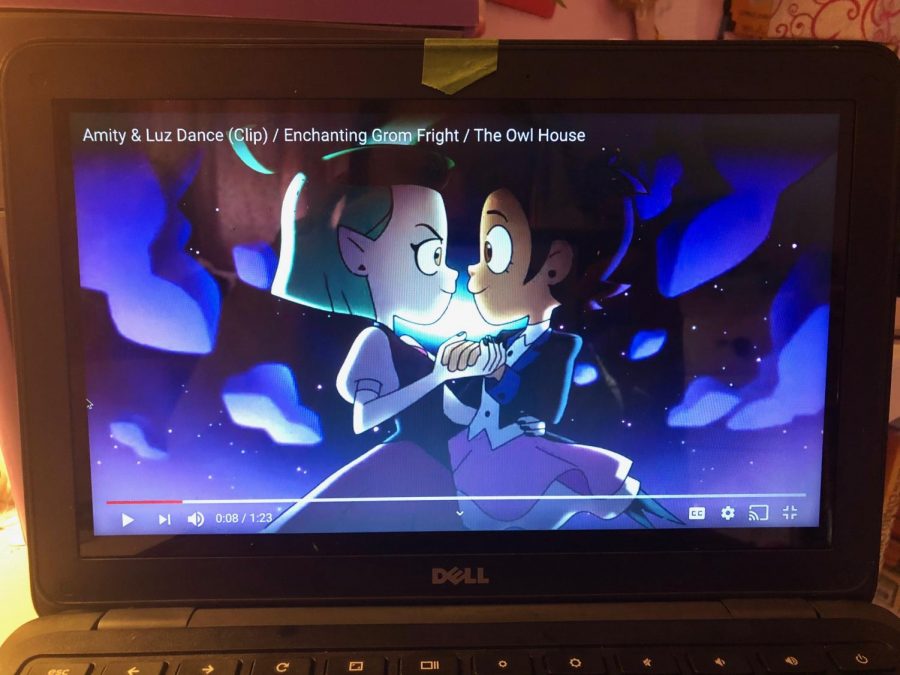 Disney's new animated series, The Owl House, is confirmed to have a queer main character. Dana Terrace, the creator of the series, disclosed this in a series of tweets earlier this month.
Luz Noceda, the show's main character, is a 14 year old Dominican-American living in a magical realm called the Boiling Isles. She aspires to be a witch and along her journey, she makes new friends, including former frenemy Amity Blight.
The relationship between the Luz and Amity
is heavily explored in recent episodes, most notably in Enchanting Grom Fright, the Boiling Isle's version of prom. In this episode, it was revealed that Amity has a crush on Luz, and intended to ask her out to Grom. 
After the episode aired, Dana Terrace took to Twitter, revealing one of the main characters is bisexual. 
"In dev I was very open about my intention to put queer kids in the main cast. When we were greenlit I was told by certain Disney leadership that I could NOT represent any form of bi or gay relationship on the Channel. I'm bi! I want to write a bi character! Luckily my stubbornness paid off and now I am VERY supported by current Disney leadership. Not to mention the amazingness of this crew," said creator Dana Terrace. 
Terrace didn't specify who it was at first, but it was later confirmed that the person she was referring to was Luz, making her Disney's first bisexual lead character. She also stated that Amity is intended to be a lesbian.
The fan's responses were mostly positive, with many praising Terrace for LGBTQ+ representation.
"My first reactions on the release that Luz was bi, I was really glad to have a character that was more than just representation of a minority group, but also a minority sexuality group, and especially bisexual because there's a lot of bi ereasure in the media and even in the LGBTQ+ community." said Janey Bostaph ('23).
It was also confirmed after the release of Enchanting Grom Fright that the relationship between Luz and Amity (or as the fans call it, Lumity) is officially canon, thus making it Disney's first openly queer relationship in a cartoon.
"I think the relationship [between Luz and Amity] would be really good for younger kids, and older people who haven't really heard about more than just straight relationships, to kind of normalize it," said Bostaph.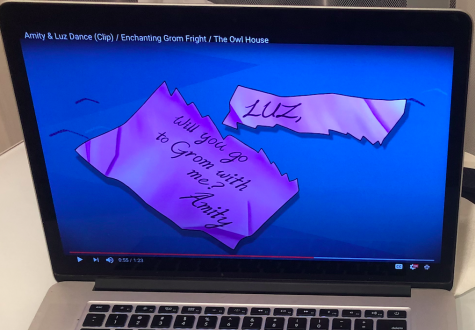 Disney has been strict on including queer representation in the past, but in recent years, they have been more open to including LGBTQ+ characters in their shows and movies. Earlier this year, Onward was the first feature film to contain an openly queer character, and the short film Out included Pixar's first leading gay character.
"I think it's important that specifically Disney shows it, because it shows how with this fight for equality, the LGBTQ community and the queer community has been able to reach so high. The leap is so great that even Disney is showing us this, and it means that we're slowly getting to the place where we have equal rights for everybody," said Ekaterina Osipova ('21).
Beneath the Surface: Disney's Past With Queer Representation
Music Credits: Wave by Picture of the Floating World from the Free Music Archive (CC by NC-SA)
The Owl House may not be Disney's first show with an LGBTQ+ character, but it is the first to include a bisexual character, and an openly queer relationship in an animated show as well.
As Terrace says, "Representation matters! Always fight to make what YOU want to see!"