Pleasanton protests for "Black Lives Matter" movement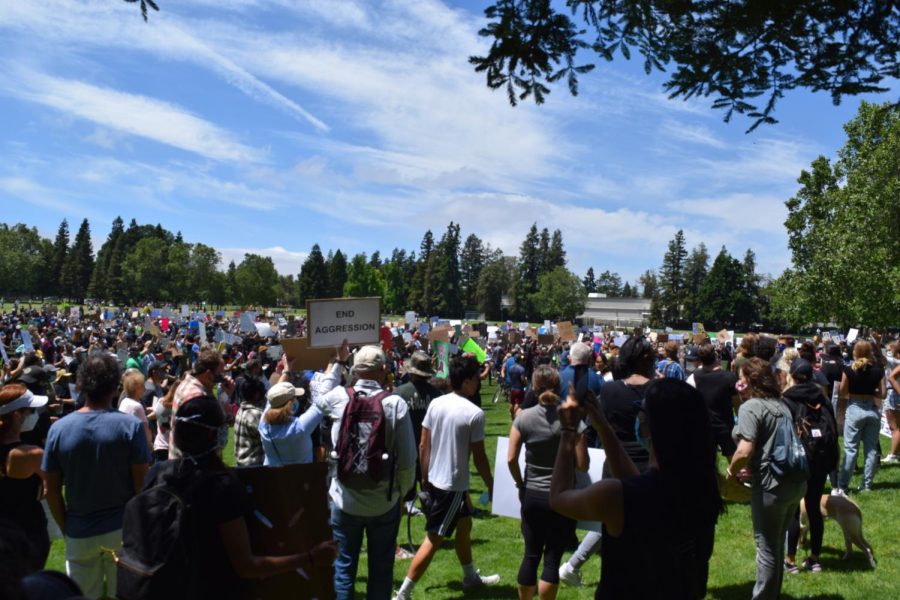 On Friday, June 6, the town of Pleasanton joined in on nationwide protests against racial injustice and police brutality. With the cooperation of the police department, thousands of people marched in the heart of the town.
The turnout was incredible as Bay Area citizens, Pleasanton townspeople, and even Amador students all showed up t attend.
"I think I wanted to be part of something bigger. I want to try to do what I can to help foster societal change. Although it's not huge, it's a step in the right direction. I think me coming out is one way I can show my support for such a cause," said Aryan Singh ('21). 
The march all began with a gathering at Amador Community Park. Local citizens and outsiders spoke to the crowd and shared inspiring words. Hopeful messages, personal anecdotes, and calls to action were met with thunderous applause.
"In the beginning the written poem was really nice. The spoken word poem was good. It really made you think and it made you feel. I also thought the silence was powerful. It was heavy, you had to sit there and think about it,"said Mahlia Jackson, former AV student ('19).
After the speeches, the march began. Roads were shut down from Del Valle to Valley, and a large path was cleared for the protesters. Though social-distancing was difficult in some areas, most of the participants were wearing masks. 
Despite concerns of violence and destruction, the crowd marched and remained peaceful as they radiated power and unity. 
At the corner of Valley and Hopyard, the protesters took a knee and proceeded to take an 8 minute and 46 second moment of silence in honor of George Floyd.
However, this protest was not just about George Floyd, but also the memories of Breonna Taylor, Ahmauh Arbery, and countless other victims of police brutality.
Protesting is just part of the process of inflicting change. As a community, it is important to know the next steps in improving the status quo. 
"We have to vote. We really have to vote. We got to get the Republicans out of there and change the police laws. The unions are terrible. Any time you kill somebody and go on pay leave— terrible. You should go to jail. No pay," said Paul Simon, Pleasanton resident.
To hear more about this event, listen to the podcast produced by Nina Moothedath.
 DONATE:
To support victims' families:
Official George Floyd Memorial Fund
Official Gianna Floyd Fund
To release jailed protestors:
For policy reform:
Black Lives Matter Global Network
NAACP Legal Defense and Educational Fund
American Civil Liberties Union
PETITION: 
National Action Against Police Brutality
Black Lives Matter: Defund MPD
Breonna Taylor— Color Of Change
Willie Simmons: 38 years for a $9 robbery
LEARN:
Why Teaching Black Lives Matter Matters
The Case for Delegitimizing the Police
By the end of his life, Martin Luther King realized the validity of violence