AV Comp Civics: An Award-Winning Team
Last Saturday, Amador's Comp Civics team placed first in their division and won fourth place in "We the People" nationals.  
We The People is a well-known program and its national competition is a huge deal. Only 30 high school classes are able to compete, so it's difficult to qualify, and incredibly difficult to place so highly.
The competition is usually held in Washington D.C., so teams around the country would travel for their (mock) congressional hearings. Each unit (3-4 person groups dedicated to a specific part of the constitution) would be given 3 questions to prepare for. At the actual event, they would be assigned one of those questions, for which they would deliver a testimony and participate in a six minute Q&A with the judging panel. Each unit would be evaluated, and the team would receive a cumulative score.
This year, however, brought a set of unexpected challenges; because of social distancing guidelines, the competition's organizers (Center for Civic Education) had to make some last minute adjustments.
The event was moved completely online through private zoom calls with each unit, judges, and teachers. The actual performances didn't undergo many changes, except that the teams were only given two potential questions and one six-minute Q&A. There weren't live audiences, so the hearings were recorded for friends and family to view later.
The Center of Civic Education did a great job accommodating the event to the shelter-in-place situation, but an in-person experience can't be replicated. A last-minute zoom call isn't the same as cramming in a teammate's hotel room, and an "oh my gosh we did it!!" text isn't the same as an "oh my gosh we did it!!" hug.
The class of 2020 had to compromise a lot in the past months, and an in-person national competition was one of those things. "I would have loved to go to Washington D.C.. It was the big pot of gold at the end of the rainbow, so not being able to have that experience was a disappointing end to a pretty great season," said Anna Sun ('20).
Anna's right that this situation with nationals was not ideal, but she's also right that the team had a pretty great season. The 2019-2020 Comp Civics team accomplished so much. These students were faced with a lot of obstacles, but they dealt with them and came back even stronger.
---
UNIT SIX
(Anna Sun, Krishna Prakash, Ning Wang, Alexander Prevost)
Unit 6 focused on current events and constitutional democracy in the modern-day world. They worked hard throughout the season but were presented with some extra challenges. Starting off as a 3 person unit, they had a whole dynamic figured out as they prepared for states. Soon after winter break, however, Anna fell critically ill and had to take time off.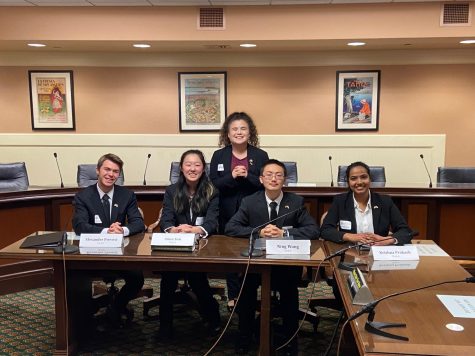 "I was stuck in the hospital for about a week, and that put a huge strain on me and my unit. I came back with two weeks left until states and found out Ning Wang ('20) was moved to our unit (because I was still recovering and we needed extra support)," said Sun ('20). 
Unit 6 had to work really hard to deal with all these changes and catch up with the other units. Their performance was struggling a bit during practices, but they just kept putting in effort.
"I mean, we were working really hard. I was up until one in the morning before states just reviewing content. My main fear was that I'd drag the whole team down. Luckily, we all did really well and ended up winning the competition," said Sun ('20).
---
There's a lot of work in competition civics, and therefore, a lot of pressure. Every student works hard and is invested in this program; nobody wants to mess up for themselves, their unit, and ultimately, their team. In this year's case, though, the team didn't get their ideal ending because of circumstance, not because they messed up. The students actually performed really well, and that's something to be very proud of.
---
UNIT FIVE
(Aayush Singh, Rama Narayanan, Ethan Yeung)
"We were all pretty demoralized after the [in-person] competition got cancelled, and it took us a while to find the motivation we had. By the end though, we were super excited just for the chance to compete and do well. Amador has a really proud history of Comp Civics, and I think all of us wanted to make sure that we lived up to that," said Aayush Singh ('20).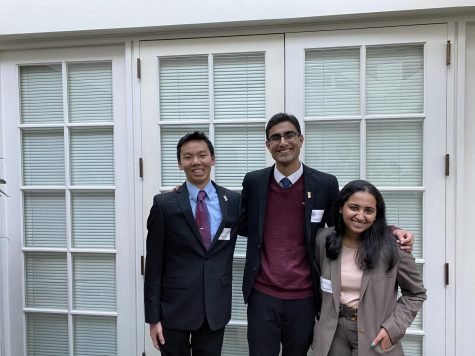 Unit 5 covered the Bill of Rights and court cases that pertain to it. They put in a lot of effort to study and review their content, but also focused on supporting each other during stressful times. Aayush explained that he's really proud of his unit's togetherness as well as their resilience.
"We lost to Foothill at districts and regionals, but everyone worked super hard to beat them by a lot at states. There were times — especially in January, before states — when we felt burned out, but our strength as a team really carried us and we lifted each other up. That's what I'm proudest of," said Singh ('20).
---
AV Comp Civics is an amazing program, and much of that has to do with the fact that it has a supportive foundation. It's a high-pressure environment, but at the end of the day, it's a team. Students help each other and encourage their teammates to do their best. By the end of the year, they come out of the class with a strong support system and, according to Jennifer Mei ('20), a new set of friends. 
---
UNIT THREE
(Jennifer Mei, Benjamin Zeng, Gloria Xie)
Unit 3 focused on changes in the constitution, like the 14th and 15th amendment, and they did well in competition, especially at states. 
"Our unit had an amazing round at states defending the constitutionality of substantive due process to the hardest panel of judges at the competition. It was incredible to have such an interesting conversation with them and be able to defend our arguments," said Jennifer Mei ('20).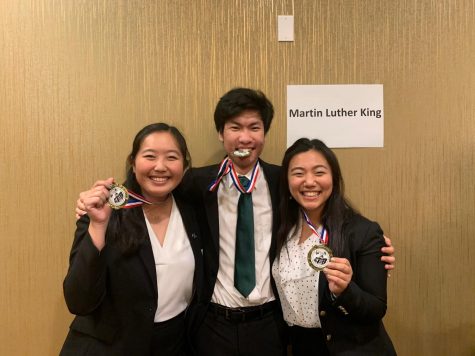 The unit had some excellent rounds and impressive performances. The students gained a lot of knowledge on rights and the equal protection clause, but they also gained really great friendships. 
"[One of our teammates had] never been on a plane before, and we were all super excited to take him on his first plane ride. The saddest part wasn't really the loss of an on-site competition, but just going to DC with some of my closest friends," said Mei ('20).
Jennifer compared the team to a family— they grew really close over the course of the year, and it's safe to say that she wouldn't have chosen to spend the year with anyone else. 
---
This class is difficult. A successful competition can only be accomplished with hard work and determination; such a demanding workload can exhaust anyone. Although Amador did a fantastic job at the end, there was a lot of toil and suffering that went into it. The group went through a lot together, and those shared experiences create a special bond between the students. 
"I think that working through obstacles is an inevitable part of being on Comp Civics just because we spend so much time together and work so hard. The collective struggle is what brought us together because everyone is going through the same grueling process," said Anica Pohray ('20).
---
UNIT ONE
(Anica Pohray, Brian Chen, James Dormer)
Unit one is the philosophy unit, and it offers a heavy workload. The students learned about political philosophy, and applied the work of people like John Locke and Aristotle to the founding of government. Their work required a lot of discussion, so their practices often consisted of long, in-depth conversations.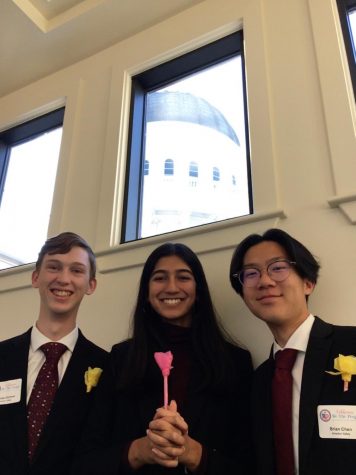 "Unit 1 was the worst unit coming out of Regionals and we lost by about 70 points (which is huge)! That was the point where we realized we needed to get it together and work as hard as possible, and we began spending literally 5 hours a day, every day of the week together, both working on our questions and just bonding overall," said Anica Pohray ('20).
They wanted to recover from the loss at regionals and worked incredibly hard to do so. The unit was diligent and dedicated— their state performance ended up being really successful (they led by about 30 points), and to say it was well-earned would be an understatement.
 "We worked so hard and spent so much time together, so it's good to know that it did pay off. At States, we ended up leading by about 30 points, and Brian, James, and I are super close now," said Pohray ('20). 
---
Amador lost to Foothill in the district and regional competitions, and that was really worrying for the team members. The district competition was disappointing, but they quickly got back on their feet and started preparing for their next event. Regionals was the one that was really discouraging. The team lost by a significant amount of points, so students, teachers, and alumni lost confidence. However, with a lot of practice and support, the team was able to improve their work and enter the state competition with a positive attitude.
---
UNIT FOUR
(David Gjerde, Rishabh Raj, Kevin Andrews, Emma Reddy)
Like the rest of the team, Unit 4 was concerned after districts and regionals. David Gjerde ('20) acknowledged that it was discouraging, but also explained that it was also great motivation for the state championship.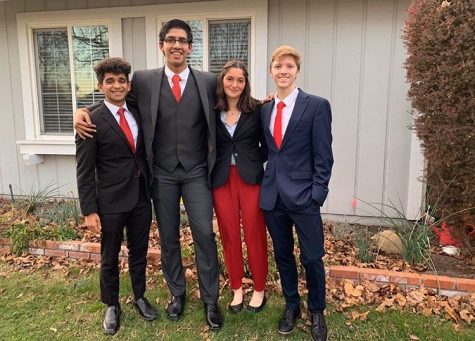 His unit studied federalism and structures of government— how the three branches interact with the states and each other.
The students made a really good group, and they put a lot of effort into their performances. Through the course of the year, they learned how to work with each other and promote a healthy team dynamic. 
"I can say for all of my unit that we definitely grew close. From the moment we started the year to our final performance we always prioritized team work. For every unit, including mine, there's a struggle to figure out everyone's schedule and emotions surrounding the work— in the end, I'm happy that I made friends with these incredible people," said Gjerde ('20).
---
A huge part of Comp Civics is learning how to work with others. It's a team effort, but everyone is so individually passionate about and invested in the content. Working in a group can be difficult, but it's such a valuable lesson to learn. This class essentially went on a journey together, and the students had to learn to navigate with each other (even when it was a little frustrating).
---
UNIT TWO
(Carolyne Geng, Rena Gong, Satya Yalamanchi)
Unit 2 focused on founders ideology, and they had some amazing accomplishments. The students did so well at the state competition, specifically when they discussed government secrecy. Everyone was impressed. Just recently, they were recognized as the second best unit 2 in the country.
These successes did not come easily, though. They actually faced their fair share of struggles.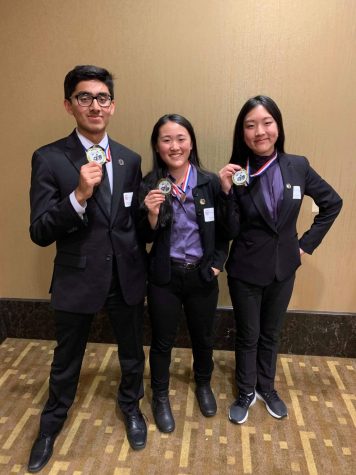 "Anxiety really permeated our unit, mostly from my perfectionism and worries. Our performance absolutely hinged on the balance of the dynamic between the three of us — if someone was super late to a meeting or someone was in a bad mood, we felt pretty rundown during testimony. The opposite emotions did the same thing; sometimes we'd get so carried away with a dance party or funny YouTube links or founders-era tangents that we'd leave a 3-hour meeting having written one paragraph of testimony," said Carolyne Geng ('20).
They had to acclimate to each others' approaches, and that's not an easy thing to do when everyone has a strong individual voice. However, they had a common passion and a shared goal, and were willing to work for it. After getting disappointing results at regionals, they just moved forward with an unwavering determination to excel.
"The three weeks leading up to states was absolutely insane; we easily spent 30+ hours on Comp Civics during that time and pushed ourselves to our best potential. Those states rounds of competition were home runs for every single person on the team, and it was so rewarding to hear us declared the state champions," said Geng ('20).
---
Competition Civics seems to be stressful and overwhelming, but also very gratifying. The team worked so hard, and their efforts were worthwhile. Amador placed fourth in the country.
There was actually a chance that they wouldn't compete in the online nationals— schools were given the opportunity to opt out, and some chose to do so (including previous champion Denver East High School). The competition was moved online, and some schools didn't embrace the new format. The thing is, the Amador team devoted so much energy to the program that it just made sense to compete.
"We had worked hard all year, and knew the material well. Staying focused and remaining in touch with each other kept us grounded during uncertain times, and helped to give us a sense of purpose," said AV Comp Civics coach Stacy Sklar.
Competition Civics is a unique class with so much to offer. It does require a lot of energy and a good work ethic, but it looks like the students are really passionate about the class and grateful for the experience.
"It is a very, very long road and a super tiring and painful process…but I can't imagine spending my senior year any other way, and I would do it again in a heartbeat," said Jennifer Mei ('20).
It's clear that the 2019-2020 Comp Civics class went through a lot. However they faced their challenges and bounced back from every single one. Each student fought to make Amador Comp Civics what it is today: an award-winning team.
Leave a Comment