Navy commit Mady Sweeney ranked as one of the top 60 lacrosse players in the nation
Gianna Ghio, Staff Writer
March 9, 2020
    As a four year returner for the Amador girls lacrosse team, senior star Mady Sweeney looks forward to the 2020 lacrosse season and has worked hard to prepare for her future playing the sport she loves. Her hard work and dedication all paid off when she was named one of the top 60 players in the country according to USlacrosse.org. 
   "To me it just means that all the hard work I've put in on and off the field has paid off and I wouldn't have been able to do it without my coaches teammates and my family and it just shows that everything I did was worth it," said Mady Sweeney ('20). 
    Along with being one of the top 60 players in the country, Mady is also committed to one of the top women's lacrosse college programs in the nation, the U.S. Naval Academy. Mady signed her letter of intent to Navy back in November, and since then has been following the strict workout plan that has been sent to her.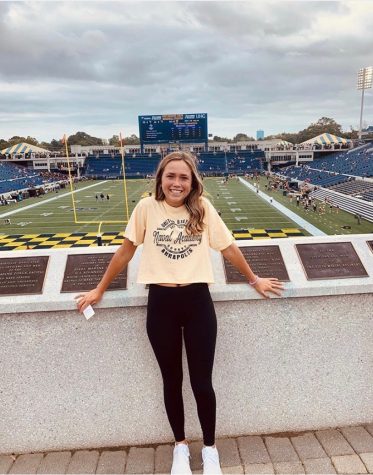 "I chose Navy because they are one of the top lacrosse programs in the country, and I really like all of the coaches and members of the team. I think going to Navy and competing against top competition night in and night out will push me to be the best player I can," said Sweeney. 
    Although lacrosse pushes Mady mentally and physically, she has never lost her love for the sport, and has continued to work harder than the rest of the competition. 
    "I find my passion for lacrosse in all the games and practices because it is just a fun game to play and I can't imagine not having lacrosse in my life," said Sweeney. 
    Mady will leave for the U.S. Naval Academy in June and will serve a total of 9 years in the Navy, 4 while she is attending the Naval Academy and 5 after she graduates.