Amador students react to Sunday's 49ers game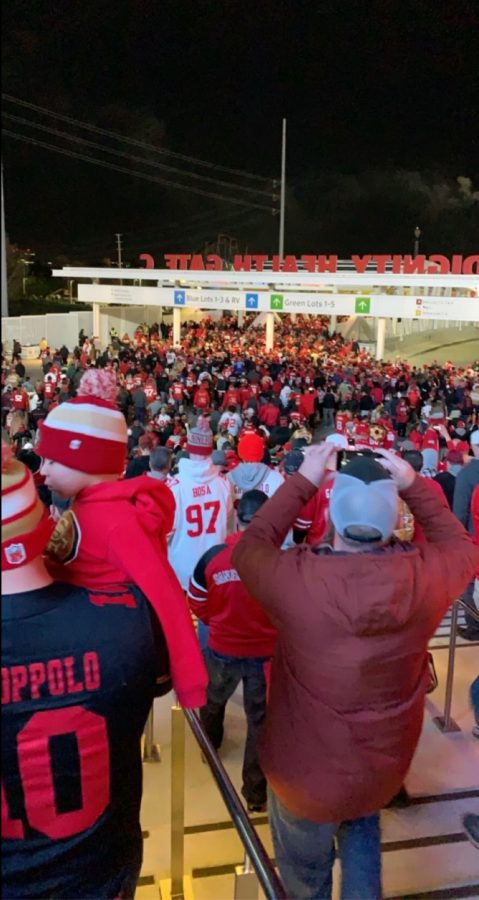 This past Sunday, the San Francisco 49ers beat the Green Bay Packers, 37-20 in the NFC Championship game, clinching their seventh Super Bowl appearance and a chance at their first Super Bowl win since 1994. 
The win came following a regular season that shocked the football world. After going 4-12 in 2018 and a combined 16-47 over the last four seasons, the 49ers started the year with eight straight wins and never looked back on the way to an impressive 13-3 record and a number one seed in the playoffs. A 27-10 win against the Minnesota Vikings the week prior and last night's victory was all San Francisco needed to secure a spot in the Super Bowl.
"The Niners obviously played amazing. And their offensive line played out of their minds," says longtime 49ers fan, Rohan Khadilkar ('22).
During the game, the 49ers rushed the ball 42 times, while passing on only eight occasions, one of the lowest pass counts in NFL playoff history. 49ers running back Rahim Mostert was the undisputed MVP of the game, rushing 29 times for 4 touchdowns and 220 yards, the most rushing yards in a conference title game in NFL history. 
Needless to say, the 49ers fans here at Amador are elated to see their team compete for an NFL championship again.
"It felt surreal. [The 49ers] haven't been the best for the past 5 to 6 years, so it was really insane to see them finally get back to the Super Bowl,"said Khadilkar.
The 49ers last appeared in the Super Bowl in 2013, where they narrowly lost to the Baltimore Ravens 31-34.
The Raiders, who also have a large following here at Amador, finished with a record of 7-9 and missed the playoffs. Next season, they will relocate from Oakland and play their home games in Las Vegas.
"Seeing as how the 49ers are one of my least favorite teams, it's annoying" says Raiders fan Steve Furtado ('21).
On February 2nd, the 49ers will square off against the AFC Champion Kansas City Chiefs in Miami for the Lombardi Trophy. The 49ers' unstoppable defensive line and formidable secondary will face a tough matchup with Kansas City's powerful offense led by quarterback Patrick Mahomes and a skilled group of receivers. 
The Chiefs will play in their first Super Bowl since 1969, and a win would give them their second NFL title. If the 49ers pull out the victory, they would tie the Patriots and Steelers for the most Super Bowls ever won by one team with six. 
There's no team with a clear upper hand, and all indications point to this year's  Super Bowl being one of the more thrilling ones in a long time.