Amador's GSA ventures through the Castro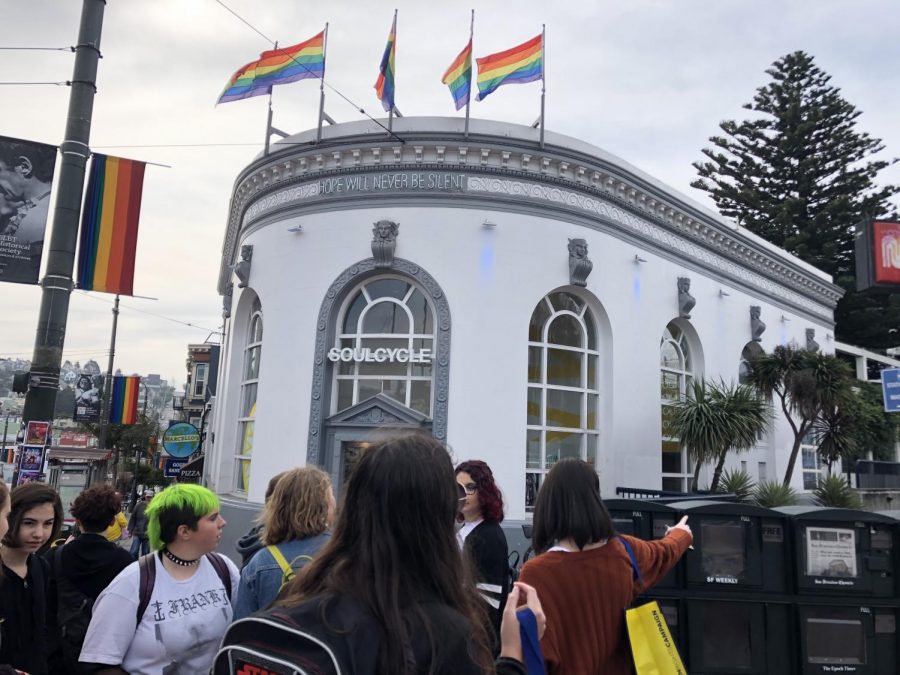 On Wednesday, November 13, LGBTQ+ Dons and allies participated in GSA's (Gender Sexuality Alliance) field trip to San Francisco's renowned queer district dubbed the Castro. The field trip was created a year ago and continues to be a tradition for Amador's GSA club.
"We knew we wanted to keep doing a field trip every year because it was a really good opportunity and for the rest of the year, I feel like we were more bonded as a club because we went on that field trip. So we decided to go again this year and kind of do a similar thing," said Amador GSA president, Mary Kate Machi ('20).
The day started at 8 am when members congregated at the Pleasanton/Dublin BART station. After reaching their stop at Mission 16th street, the GSA walked to Philz Coffee to buy drinks, eat pastries, and relax.  
The next major destination the GSA explored was the Human Rights Campaign store. On the way, club members, officers, and advisors experienced the Rainbow Walk of Fame: a path of plaques scattered on the streets of the Castro to commemorate influential people and important dates of LGTBQ history.
The Human Rights Campaign shop was a camera store owned by the famous queer activist, Harvey Milk. Today, it has been repurposed into a space to buy queer merchandise and is a memorial/museum in honor of Harvey Milk's work. Before GSA members explored the store, John, the cashier, retold Harvey Milk's life story, the impact he had on San Francisco's LGTBQ+ community, and how that impact lives on.
"It was interesting to learn that you can still get refused service for being gay and that made me want to just kind of help more," said Victoria Hartig ('20).
While he denied my request to interview him, John emphasized to me that a significant part of Harvey Milk's legacy was telling people to come out, as it has allowed members of the LGBTQ community today to feel more comfortable coming out at a younger age.
Because of John's informative lecture and the fun items — or what John referred to as "gaydems" — it sold, the Human Rights Campaign shop was a fan favorite.
Once club members attained their merch, they walked down a couple blocks of the Castro and ventured into the Harvey Milk Plaza, an additional Harvey Milk memorial. 
Afterward, the GSA crossed the main road to visit the Pink Triangle Park, a small memorial that stands to commemorate members of the LGBTQ community who were prosecuted and put into concentration camps during WWII. Consisting of a triangle covered in rose quartz that is surrounded by pink roses, the memorial underscores the pink triangle patch homosexual men were given to wear in the camps.
After a moment of silence in Pink Triangle Park and a quick stop to visit a quilt memorializing the AIDS epidemic, the GSA members walked a couple blocks to eat lunch. Before heading back to the BART station, the group played card games and enjoyed the playground at Corona Heights Park.
For the GSA, a yearly visit to the Castro acts as an opportunity for queer students to learn about the history behind the LGBTQ community.
"It's incredible that we have this center of LGBT history so close to us and I think it's important that we go there and learn about our history and as well as San Francisco's history," said Amador GSA's secretary, Zoe Peterke ('20).
In addition, students were also able to get a taste of LGBTQ culture.
"When you go to a queer space, it's very much like you are hit with all of the culture and all of the history and it's really great to be immersed in that," said Machi.
Most of all, this field trip was an opportunity for members of the Amador GSA to bond and express themselves.
"I think being in a queer space is a really important thing, especially for people who are relatively new to identifying with the queer community because when everyone in the space is queer, you can no longer use 'queer' as a personality trait, so you're kind of forced to be your own person separate from your sexuality and gender identity," said Amador GSA Treasurer, Isla Griston ('20).