Amador Valley Track Runs an Incredible season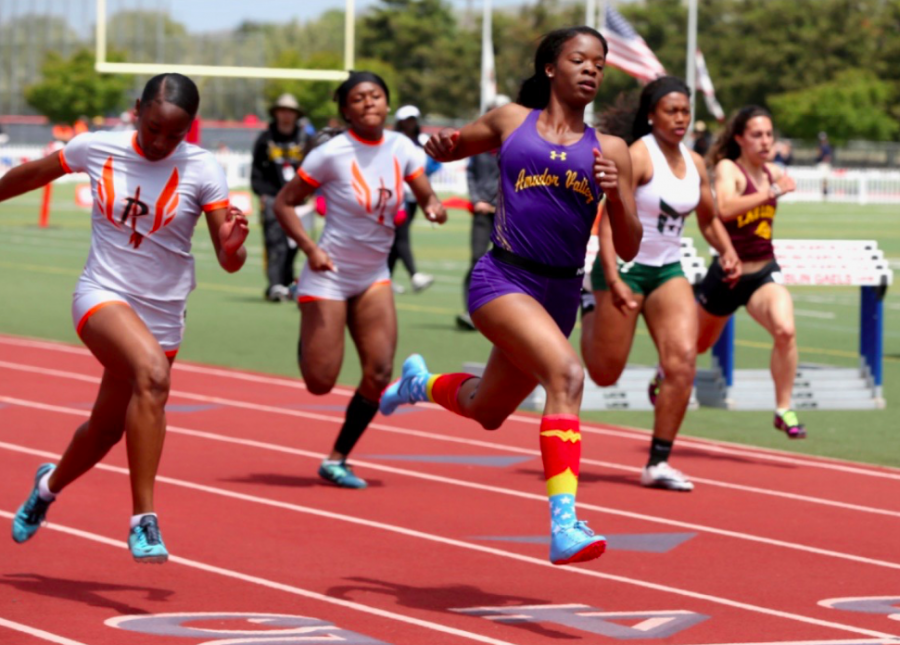 This year's track team for AV has made it to the "Meet Of Champions". Although this is a great ordeal for the Amador Valley track team, it is nothing new.
The "Meet of Champions", or DOC, took place at Diablo Valley College this year.  A few of our Amador Valley runners competed at a very high level and are moving on to states.
Elijah Weetman ('19) won not only one medal, but two. He raced the 400 meter and his time pushed him from 7th to 3rd in the state. Elijah averages around 49-50 seconds for the 400 meter run. He spoke of his run times as well as his season so far.
"I am the 5th best 400 meter runner and the 7th best 200 meter runner in Amador Valley history. The average time for a 400 meter run is around 55 seconds but I can run a 48.91 second 400. Also, a normal 200 meter time is around 24 seconds, but my best 200 meter is a 22.31 second run," said Weetman.
Weetman also spoke of how his relay team was able to get from placing 7th to placing 3rd in states in one run.
"I was just determined to set my team up to be in a great position, I wasn't really keeping track on how many people I was passing. All I knew was once my job was done and after I handed the baton off, my team would finish the job and we could punch our ticket to the state finals" said Weetman.
Another runner, Chinyere Okoro ('19), a senior track and field runner here at Amador, was featured in the San Francisco chronicle. Okoro placed 1st many times this year during meets. She is an unbelievably good runner and is following her passion for running at the University of Oregon.
Okoro is not only one of the greatest girl runners to ever come through Amador, but she has also overcome all odds that were against her as a child. Chinyere was born with a hole in her heart as well as a right foot that was formed outward. The doctors suggested to her parents that she should undergo heart surgery but her parents decided to let fate undergo it's course.
Okoro had to wear a special boot for most of her early life, but her hole in her heart closed up naturally. She has overcome all odds and used her heart and willpower to do what she loves, run.
The Amador Valley track team of 2019 has had a fantastic season with fantastic runners. Runners such as Weetman and Okoro demonstrate how much heart and effort Amador Valley puts in to make the school a better athletic and academic place.