Amador Valley Gym: New Hot Topic — Board Meeting 5/22/19
Elizabeth Kostalnick, Page Editor
May 22, 2019
On Tuesday night, May 21, 2019, students and parents of the Amador community all gathered at the Pleasanton Unified School District Office for a Board Meeting in hopes of addressing the problem with the Amador Valley High School gym.
Prior to this board meeting, the district office approved a grant to re-do the field at Foothill High School as well as the track at Pleasanton Middle School. However, the issues regarding the Amador Valley High School gym were not addressed until this point.
Multiple parents, students, and coaches of the Amador Valley High School community addressed their concerns regarding the safety of the gym not only for the current students, but for future students as well.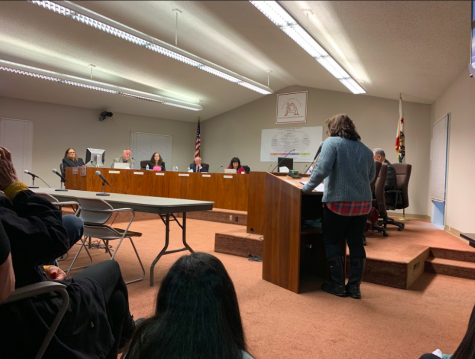 "I think that we most certainly need a new gym, even though I am a graduating senior. I think in order to continue to increase Amador's spirit and school pride a new gym is necessary especially since our student population is becoming so impacted. As a leadership student, it's also become a safety hazard to host rallies and dances given the lack of space to seat students in the bleachers even when we have two separate rallies for students to attend," said Samara Ayoob-Ahmad ('19).
This general concern was shared among many parents and students at the board meeting. One speaker even addressed the issues regarding rodents in the boys locker room as well as insects such as cockroaches and bees which infest the gym throughout not only the entire summer during training for fall sports, but the entire school year.
Ultimately, the concerns expressed at the board meeting raised awareness in hopes for action to be taken place to repair issues currently impacting the gym.