Chinyere Okore breaks records
Chinyere Okore is something of a legend here at Amador. She can be seen training everyday after school for hours and racing in meets on Saturdays. Now, she's leaving her mantle here at Amador for the University of Oregon, where she'll continue her track career.
"Oregon has been my dream school since middle school. I made sure to stay focused in order to accomplish those goals," said Chinyere Okore ('19).   
Chinyere started track due to her mother, who also ran track in high school, and started running competitively in 8th grade.
She's been working had ever since, almost always at a meet on Saturday and strengthening in the weight room on Sundays.
"I feel that hard work definitely pays off. It's mostly all mental at this point when it comes to training by myself and pushing my body to certain limits," said Okore.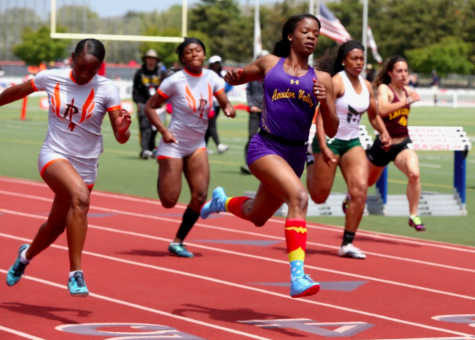 Chinyere mostly focuseson the 100m, 200m, and 4x100m, citing the 100m and the 4x100m to be her favorite.
"I'm mostly excited to have a team where multiple people are faster than me so I can get pushed. It's really nice to be on a relay team too, where we all support each other. It's nice to know there are people who support my goals of making it to the Olympics, one day," said Okore.
But with glory, comes sacrifices.
"I had to give up time with friends for training and studying to critique my style. But I've always been mentally prepared for such things and I knew that it would take that to make it to the professional circuit," said Okore.
It has paid off in the end though, for Okore. Currently, she holds the Amador record for Girls 100m with the time of 11.57 seconds and the Girls 200m record of 23.94 seconds.
Chinyere also hopes to focus on theater next year as well as track at Oregon.