Jacob Akanyirige: 17-yr old MLS player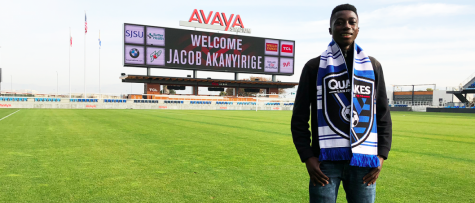 Jacob Akanyirige is a previous Amador Valley student who now plays on the San Jose Earthquakes. At the time, he was the youngest person to be drafted to the San Jose Earthquakes MLS soccer team. He was born  on December 30th, 2001 and went to Walnut Grove Elementary School, Harvest Park Middle School, and a year and a half of High School here at Amador Valley High School. He's 17 years old and is now the third youngest signee for the San Jose Earthquakes. Right now he is a reserve defender incase if anyone gets injured or cannot play.
Jacob Spoke about how he was signed to the professional team.
"I played Ballistic Soccer Club here in Pleasanton for most of my life when I realized that I felt that I had the potential to play at a higher level. While at Ballistic I was always chosen to play on the academy team for an age group higher than my own. I was always happy to play for this team but I wanted to work on what I would do after high school and in my future soccer career. I left Ballistic to play soccer at the San Jose Earthquakes junior team where I played for a year. After a year, their MLS team contacted me saying that they wanted to sign me," said Jacob Akanyirige.
A few of Jacobs friends spoke about his soccer skills. " I moved to Pleasanton in 8th grade and went to a few practices with Ballistic when I really saw how good Jacob was. You knew that when any person had the ball and was matched up against Jacob that they would almost 100% of the time lose the ball. He was always an exciting player to watch," said Hunter Stokes ('20).
More of Jacob's friends comment on the kind of player Jacob is.
"There's really only one thing to say, he is the best player I have ever played with or against," said Josh Wilner ('20).
Jacob spoke about day to day life as a Professional Earthquakes player and how it is not an easy job for a teenager.
"I start my day by waking up early and driving to jamba juice to get a light breakfast. Our team trains everyday on whatever our coach thinks we need to improve on most and then right after our team heads to the gym," said Akanyirige.
He also spoke about how he has to sacrifice a lot to stay on this team.
"Having to spend almost all of my day, everyday, with the team, I never have time to spend time with my Amador friends anymore. Also, I come home to Pleasanton around 7 every night and I'm always too tired to go out after that," said Akanyirige.
Although Jacob wishes he can have more time with his friends from Pleasanton he feels very lucky to be apart of the San Jose Earthquakes and wants to keep playing soccer as his career.