Counter Culture Day 2019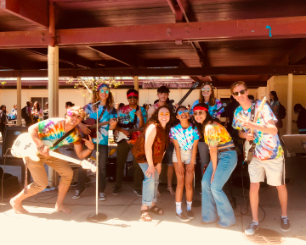 Kenlyn Cashion, Staff Writer
April 23, 2019
Counter culture day was a blast from the past that swept the junior class along with it, taking us back to the 1960s to embrace the cultural and political trends as well as the music. This year it took place on Friday April 12.
Tie dye was the dress code in our counter culture celebration. Each junior U.S. history class tie dyed shirts in preparation for the day. Every shirt is unique with intricate patterns and colors, no two tie dye shirts are the same. The 1960s was a lover of creativity and freedom and embracing diversity! The tie dye shirts were a symbol of this.
The U.S. history teachers with help of students each decorated their rooms to create a groovy 1960s feel. The students particularly enjoyed this.
Manogya Bharathula (Amador '20) shares, "Mr. Dalldorf's room really captured the essence of the 60s. It was amazing what him and the students transformed the room into. There was a strobe light, beads hanging from the ceiling, posters, tapestries, lava lamps. The vibe of the room was great to spend time in."
The biggest event of all of the day was our Woodstock concert on Hippie Hill. This took place on the field in the lunch area where students put together a band and played live music while everyone else sat on the grass and ate lunch.
This day was more than just a day where we dress up and listen to music from the 60s; this day was about the new movement in the 60s for peace, love, creativity, and freedom. This movement was something that swept the nation, an attempt at a utopian society.
U.S. history teacher Mr.Dalldorf explains why the day is held, "We do this to kind of unify the juniors and give the juniors a chance to come together in a collective way… by decorating the rooms and dressing up, it gives us a chance to really feel the moment and feel like we are part of the movement…most of my students I've talked to that I've had 15-20 years ago [say] that's the one day they remember more than any day."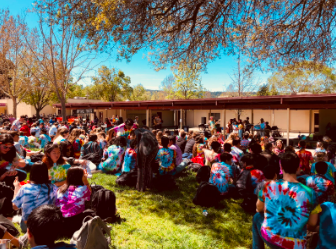 Counter culture day: a day of no judgement, purely peace, love, and positivity is just another day at Amador Valley High School.