Tri-Valley Women's March Brings The Women Of Pleasanton Together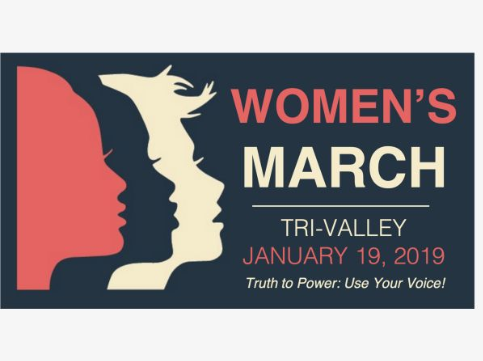 With women being sworn into office at record numbers and the #MeToo Movement being at its strongest, women and girls have taken the role of female empowerment.  Here, Pleasanton locals who wanted to participate in the action marched in this year's Tri-Valley Women's March.
The Tri-Valley Women's March occurred on January 19th, 2019. Participants met at Amador at 1 p.m. for a rally and then marched through downtown Pleasanton. At the end of the rally, community leaders presented speeches, and there was a Women's Expo.
The march was organized by multiple organizations including the Tri-Valley Women's March Action Group, Livermore Indivisible, Students for Social Change, and OFA East Bay Central.
While march organizers have reached out to men and women of the local community, they especially encouraged young people to join the march.
"I hope the community will be inspired to support our youth. I am so impressed and encouraged by the students and young people. They are so well informed and well spoken and we need the older generations to support their efforts to have safe, healthy, and successful lives," said march organizer Emilie Cruzan.
Many Amador Valley students looked forward to participating in the Women's March along with people across the country and around the globe.
"The Women's March is an incredible experience for activists and citizens of all ages to use their voice in speaking truth to power. I definitely encourage everyone to join us in this life-changing march," said AV Girl Up President Luana Yeung ('21).
A variety of people, whether they are able to participate in the women's march or not, believed in the power of it's cause, as it acts as an opportunity for people to speak up.
"I think marching is important because it is a way to give your voice to the world and people are usually shy to do that…Overall, marches are a way to express how you're feeling while having people to back you up on your opinions," said Emily Cole ('21).
While the women's marches are most known for helping people non-violently resist against sexist oppression and harness their voices, they also aim to provide education about social issues for the sake of creating substantial change.
"I have marched in Women's marches in the past couple years, and I think it's important because they start conversations that need to keep going," said Girl Up Club adviser Amy Suto.
Across America, movements have provided people the opportunity to push for social change.
"The march is very timely. This year we've seen the Women's Wave, record numbers of women and minorities running and winning seats in Congress. Also, we have the Time's Up movement, Families Belong Together, March for our Lives, and Marches for Science, just to name a few. These are all grass roots movements and we need to keep the momentum going. Our theme is Truth to Power – Use your Voice!" said Cruzan.
The Tri-Valley Women's March along with marches around the country not only abided by its general mission, but also celebrated a step closer to gender equality, as the past year was full of victories for women.
More details about the march are provided here.