The City of Pleasanton raised water rates by 30 percent on Nov. 1 to cover water supply and facility improvement costs. This is the first water rate increase since 2011 except for inflation adjustments. 
In the past, Pleasanton purchased 20 percent of its water from wells and the rest from Zone 7 — a water wholesaler located in Alameda County. Recently, the discovery of ​​perfluoroalkyl chemicals in Pleasanton's well water forced the city to shut the wells down.
"The 20 percent of the water that the city did obtain from underground were from three wells – wells eight, five and six. We shut them all down," says Pleasanton Mayor Karla Brown.
The city's compromise
As a result, since at least December 2022, Pleasanton has been exclusively purchasing water from Zone 7. The adjusted water price reflects the increased price of importing Zone 7 water. The price adjustments will also cover the costs of long-term plans including treating Pleasanton's contaminated groundwater. 
"Specifically, revenues from increased rates will fund a project to increase capacity from Zone 7 Water Agency to reduce the reliance on Pleasanton's groundwater wells as a longer-term solution is developed," says City Manager Gerry Beaudin in a July press release.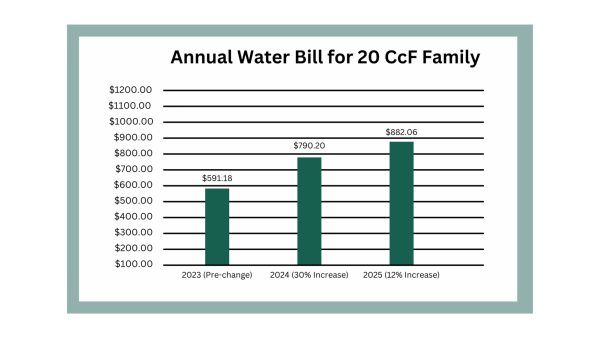 The new proposed rate increase is 30% by Nov 2023, an extra 12% by 2025. For an average family in Pleasanton, the 30 percent increase amounts to just under $200 in additional fees each year. By 2026, residents can expect to be paying nearly $300 extra per year.
"Nobody really likes the prices going up on anything. We try to keep our water levels low but it's not good when prices keep rising," says Pleasanton resident Nikki Brown.
Petitioning for lower water rates
Concerned residents started a change.org petition to protest the price hikes, which has gathered more than 2,300 signatures as of today. 
"We implore the City Council to explore the wise allocation of funds to ensure that water remains affordable," reads the petition. "Striking a balance between financial sustainability and the community's well-being is crucial."