Through Nov. 3 at 9 p.m. to 4 a.m. on Nov. 6, Southbound Interstate Highway 680 (I-680) will be closed. As the current state of the roadway is deteriorating with potholes, the California Department of Transportation (Caltrans) is working to resolve this issue. 
"The idea is with this specific closure, what we're doing is we're sparing motorists a full three months of nighttime closures. We're shrinking, forty nighttime closures into one weekend," said Caltrans District 4 Public Affairs representative Mara Janis. 
The weekend closure aims to completely grind away the existing concrete to pour fresh concrete. In addition, weekend closures increase the safety of the workers and motorists. 
Alternative routes
Though the closure will impact motorists who drive through Pleasanton, there are alternative routes. Motorists can travel through I-580 to California State Route 84 as a detour to travel south.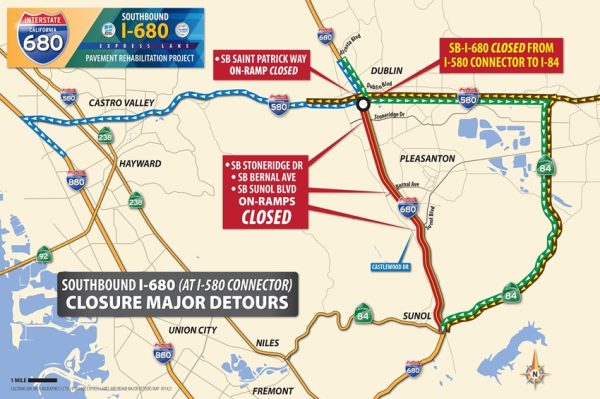 "We worked closely with the city of Pleasanton on these other detours that we have established. And one of the things we wanted to do was to make sure that traffic doesn't detour through city streets," said Janis. 
While this closure impacts motorists, it will impact Pleasanton residents the most. So Caltrans established a detour outside the city and a special route for Pleasanton residents. 
"I want to emphasize that if you live in Pleasanton, you can get through. The California Highway Patrol (CHP) will let local residents through. There will be a CHP checkpoint at Castlewood and local residents can show their ID to get through," said Janis. 
Future construction on the I-680
This is just the second phase of the construction — the first in early 2023 — and motorists can expect more in the upcoming months. However, with the first closure, construction ended early so Caltrans hopes that this closure also won't have any delays. 
"During the closure, it can be easy to feel kind of frustrated. And we thank the traveling public very much for your patience and understanding. But at 4 a.m. on Monday, Nov. 6, there's going to be smooth riding for motorists," said Janis.