On Sept. 13th at lunch, this school year's Mr. Amador boys were revealed to the student body. And they did so creatively— through a dance.
While some students vacationed and relaxed during summer, the Mr. Amador committee organizers worked hard to plan events for the upcoming school year. 
"Over the summer, we emailed teachers for recommendations. We were looking for boys with exemplary qualities such as leadership, kindness, and integrity, basically someone who can represent Amador in a positive light," said Amishi Bhatia ('25), one of the directors of this year's program.
Of course, the committee's endless work could not come to fruition without the resilience and dedication of the boys whom they select.
"We do so many things. Like the grams that you send, the links. We do caroling, we go to restaurants and serve, we go to small businesses. We do a lot of stuff," said Riley Borges ('24), one of this year's Mr. Amador boys.
Last year, Mr. Amador raised a grand total of $53,591. This year, the organizers have even higher hopes, working tirelessly and organizing more events to pull in more funds.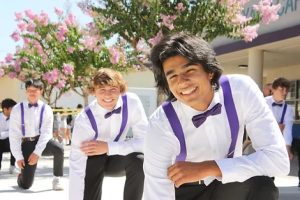 "This year, our publicity committee will be doing a lot more fundraising events to raise even more money for the George Marks Children's House," said Bhatia.
To put on the show, the 28 girls on the committee, two teacher advisors, and other volunteers' participation is always essential. 
"Volunteers are so absolutely important because without them, so many things wouldn't get done," said Andrew Krekorian ('26), another of this year's Mr. Amadors.
At its core, Mr. Amador is a year-long fundraiser. It aims not only to amass support for the George Marks Children's House, but also to bring together Amador's community."It's [always] so heartwarming to see the whole audience come together as a community. It's really nice to see that they have our backs and want to support the House as much as we do" said Bhatia.