Club Profile: Spanish Honors Society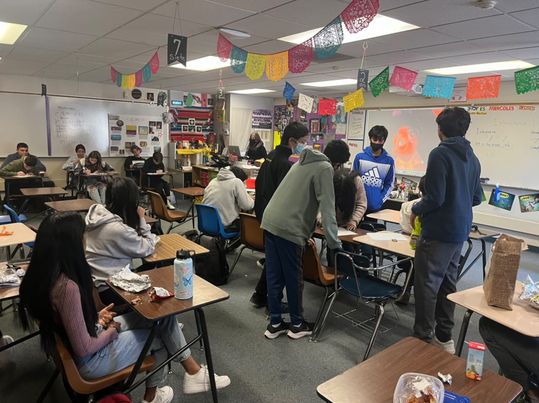 Amador is known for its diversity, featuring countless clubs and organizations centered around various student interests. Spanish Honors Society (SHS) in particular focuses on spreading awareness of the Spanish language, while also helping students in their classes. 
"We're a club that's mostly seeking to promote the Spanish language and help people in their AP Spanish classes. We accomplish this through a variety of activities such as meetings focusing on tutoring prep, tutoring sessions outside the club, and we also have activities like cultural nights as well," said SHS Officer Abhinav Garg ('24).
Members who join SHS enjoy learning about the Spanish language while also taking advantage of tutoring services. Many members are AP Spanish students who seek extra help in their class. 
"I have a genuine passion for the Spanish language, and many of my friends who were already part of the society highly recommended it, emphasizing the engaging activities amongst other things. I joined to further expand my Spanish language skills beyond what I learn in class," said Aryamaan Dash ('25).
A typical meeting starts with a lecture involving culture, grammar or AP testing strategies. Th officers then facilitate a game to help students learn. 
"We had a cultural night on May 26th. It was filled with games, food, and stuff. We want to promote Spanish culture," said Garg. 
Spanish teachers also provide extra credit to students who attend SHS meetings. While it helps the students, the officers originally had issues withattendance. Learning from this challenge, they changed their meeting structure to engage more members. 
"There's a lot of people who would come and attend meetings for attendance and leave because of extra credit offered. We tried to move attendance toward the end of the meeting and also try to actively involve our members instead of just lecturing," said Garg.
Students who participate in SHS often find that the interactivity sets it apart from other clubs.
"Each session is carefully designed to be engaging and educational, offering me the opportunity to learn something new every time. The club's commitment to providing a dynamic learning environment has truly made it my favorite aspect, as it continuously challenges and expands my knowledge of Spanish," said Dash.