"Spread the culture of Korea": Amador Valley Korean Culture Club promotes the AAPI community on campus
The Amador Korean Culture Club strives to provide a safe space for the AAPI community with Korean cultural activities. Club members play Ddakji-Chigi, dance to K-pop, and watch Korean movies. They aim to achieve more Asian American representation on campus by promoting Korean culture.
"The goal of the Korean Culture Club is to promote diversity around the campus of Amador Valley and spread the culture of Korea. During our regular meetings, we provide activities that all students can enjoy such as Ddakji and Jegi," said club president Minsung Kim ('25).
One of the events that the AV Korean Culture Club took part in was Donversity. This was a rally hosted to promote diversity on the Amador Valley campus. From the Black Student Union to the AV Dance team, the AV Korean Culture Club participated in one of the many performances.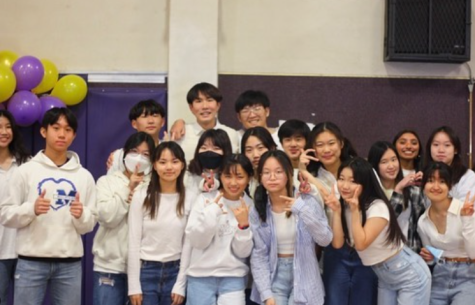 "We wanted to perform K-pop dances at Donversity because we believed that K-pop is one of the most popular aspects of Korean culture that people know and everyone in the school can enjoy while watching the performance," said Kim. "We tell performers to practice at home and meet twice every week to prepare together for the rally."
The AV Korean Culture Club members bonded over the performance. They grew closer through the time spent practicing and the celebratory party after the Donversity performance. 
"I think my favorite memory was when we got together at the end and ate snacks together after Donversity. Just talking with everyone about the performance while eating was so memorable and fun," said incoming secretary Miharu (Shirley) Fukuda ('25).
In addition to Donversity, the Korean Culture Club also took part in Pigskin. This festival allows clubs to host booths for fundraising prior to the rivalry football home game.
"Besides the Donversity performance, I was a part of the club fairs held on campus. My personal favorite was Pigskin, where we were able to successfully raise money by playing Ddakji," said club vice president Seoyun Choi.
Ddakji is a Korean cultural game played between two or more people. The game is won by flipping the other player's card with one's own card.
"During our regular meetings, we either provide the members with traditional games or give them a presentation such as popular food in Korea and K-pop Kahoot. We will be having more diverse activities coming up next year," said Kim.
The Korean Culture Club previously combined two different Korean clubs on campus. The club now includes many activities including giving presentations on Korean culture and performing at the Donversity,
"It's important to have a Korean Culture Club on campus because it helps spread knowledge about Korean culture. Oftentimes most people think that all Korea has to offer is K-pop and K-dramas. However, I think that through the club we are able to spread more about Korea than what's on the surface," said club publicist Emily Choe ('26).
The Korean Culture Club represents one of the fastest-growing cultures in the world. The club had around 20 dancers for the Donversity Kpop performance and close to 100 members on their email list. 
"In the future, we want to see more club members attending our meetings. Also, our goal is to have a better Donversity performance every year, so I would like to see more people participating in the dance," said Kim.
They aim to educate and entertain by engaging in activities like traditional games, K-pop performances, and cultural presentations. At the same time, they are creating a welcoming space for all students. 
"I first wanted to join the club because my sister, who was an officer, told me about it. I want others to join the club as I want a lot of people to know about Korean culture and enjoy Korean cultural activities," said club treasurer Jaewon Choi.
The AV Korean Culture Club will continue to spread awareness and appreciation for Korean culture. While doing so, they are building lasting connections among members in the AAPI and Don communities.
Leave a Comment