Pleasanton's Creatures of Impulse hold an improv musical puppet show
From May 18th to May 20th, Pleasanton's Creatures of Impulse performed a musical of puppets at the Firehouse Arts Center. The show consisted of music and singing, all improvised.
"Improv is where you act without a script. You don't have the typical preparation that comes with most performing arts like studying, memorizing music, or memorizing scripts. You get on stage and you start from the ideas in your head and you play it out with your other members," said Zoe Wagner (24'). 
Every show for Puppets of Impulse followed a different storyline that was created from audience suggestions. This performance itself was a brand-new experience for the members of Creatures of Impulse. The cast experienced something new that tested them as improv performers.
"This is the first time that anyone in this cast did a musical. And on top of that, this is the first time that anyone has done any puppet work," said Director Jeff Zavattero. "We introduced two new things and it's scary, but I think that they're doing a great job."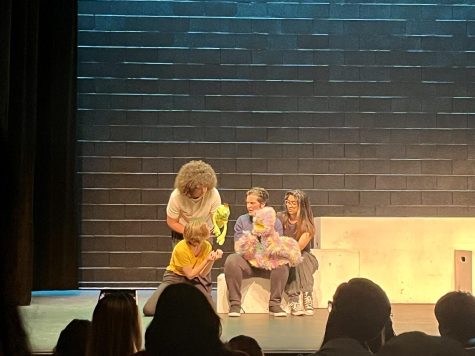 Improvising a whole story is already difficult on its own, but this show also included improvised music on a piano. This was more than mere background music to accompany the performance.  Improvising music also created a connection between the performing cast members. 
"I almost kind of do mind magic with the actors, I guess. I sense out when there's going to be a song and what the energy is and then I play the music for them. Somehow knowing when the song ends and being able to follow [the actors] as they sing is kind of a cool way to connect with the people on stage, " said Tyler Sullivan, the improv show's pianist.