Film review: Air: Courting A Legend dunks from the freethrow line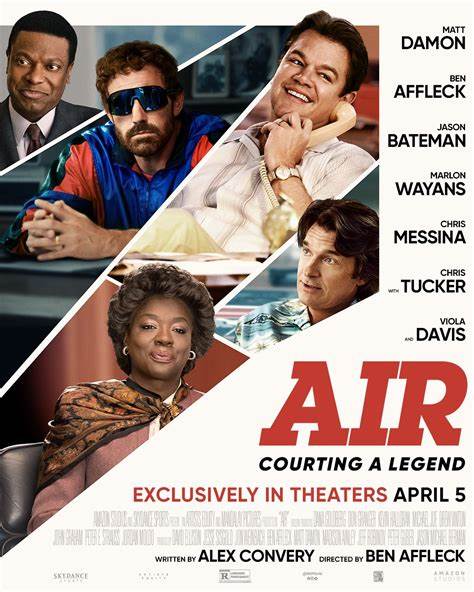 Air was released in theaters on April 5, 2023, and tells the story of Sonny Vaccaro and the adversity he overcame to convince young star athlete Michael Jordan to sign a shoe deal with Nike. The film highlights the struggles Vaccaro faced with attempting to expand Nike's terrible basketball division. Despite the film being a somewhat typical underdog story, basketball fans and sneaker heads alike will certainly enjoy this movie for what it has to offer. 
The story begins with Sonny Vaccaro (Matt Damon) of Nike attempting to recruit basketball players to sign a shoe deal with Nike. The company was popular at the time, though they were not known for their basketball division. Vaccaro must convince Phil Knight (Ben Affleck), the founder of Nike, to be willing to pursue one player: Michael Jordan. Despite facing adversity, Vaccaro works hard to make his dream become reality. 
One of the movie's strengths is the fact that it has strong character development. Nike founder Phil Knight is depicted as being rather conservative early in the movie, later becoming more rebellious as the pursuit of Michael Jordan advances. He is more willing to take risks and spend more to build the basketball division that Sonny Vaccaro is so passionate about. Specifically, when Michael Jordan agrees to accept the shoe deal with the added clause, This is an effective call back to earlier in the movie, and demonstrates Phil Knight's character development while working with Sonny Vaccaro. These character relationships make the story enjoyable and help the audience to understand how each character thinks.
The cinematography was good quality, though wasn't as creative as in other movies. The shots are rather basic and don't provide any unique angels or perspective. Damon and Affleck provide superb acting and fit well for the roles they were cast in. Another strength of the movie is the soundtrack. It featured many classic rock songs from the 80's, each of which capture the mood of the story quite well. The movie is also paced well without feeling too slow or fast. 
As I watched the movie, I drew a connection between the 2011 film Moneyball, which follows the story of Billie Bean and his quest to implement moneyball into the Oakland Athletics organization. The similarities between the movies lie in how a member of an organization that has been struggling proposes a crazy idea that goes against typical strategies. 
Overall, this movie is a fun underdog story that basketball and movie fans alike will enjoy. While not being the most original story, I find it is still interesting and gives good context to how the Jordan brand and every other Nike basketball shoe came to be. I would recommend this movie to anyone looking for an enjoyable, though simple movie.
Leave a Comment