From fiction to reality: Katherine Chen ('26) and Malana Schreiber ('26) sell bookish rings
In 6th grade, Katherine Chen ('26) and Malana Schreiber ('26) started making jewelry together. It was a simple hobby; just two friends discovering new interests — nothing more, nothing less. 
Then, Chen and Schreiber sold their products for the first time. 
Their first sale led to several more, and before they knew it, they had a small business in their hands. Fast forward to today; Chen and Schreiber turned their hobby into KatandM Jewelry, a flourishing ring business on Etsy. 
Behind-the-scenes
With KatandM Jewelry, each ring tells a story. Chen and Schreiber take their inspiration from all sorts of fiction, whether it be from literature or TV shows. Their products range from simple red-and-yellow rings inspired by Taylor Swift's Red, to glamorous four-piece sets inspired by Six of Crows. 
"We sell rings based on books, songs, and movie characters for people who like them and feel a connection with them. I started it just being obsessed with books and wanting to do something with that, and I think it's really cool that I can reach out to people and have that connection," said Schreiber.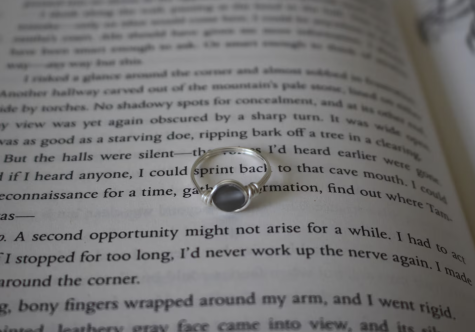 As co-owners, Chen handles photography and finances, while Schreiber takes care of packaging. When it comes to designing and constructing, the duo split the workload evenly, collaborating with each other to come up with the best designs for their products. 
"We love bouncing ideas off each other. Since we do a lot based on books, Malana definitely reads a lot more than I do, so it's about asking each other about what we like and stuff like that," said Chen.
Chen and Schreiber take time to ensure that their designs match their source of inspiration. Although it's a time-consuming process, it's one of their biggest priorities as designers. 
"When we do large launches, we brainstorm ideas for characters and songs that we base our rings on. We research what colors and designs would fit whatever character we're going for. Sometimes we have random ideas based on what's popular and we'll do single ring launches," said Schreiber. 
Hard work pays off
As with any business, one of Chen and Schreiber's initial challenges was adapting to decreased demand. When a product isn't popular, sales decrease. As a consequence, Chen and Schrieber lose the time and money they spent making their rings. 
"We always try to find new ways to get different products on the market. We find out what's popular because it's changing a lot, and we know that when a new show comes out, those rings will be popular," said Chen.
With each success and challenge, Chen and Schreiber learned valuable lessons as business owners. Even though they launched KatandM Jewelry on Etsy less than three years ago, they've already seen incredible success. As of today, their business boasts nearly 1000 sales, 340 five-star reviews, and 83 different products. 
"We thought that our goal was 2500 sales by the end of high school. We want to expand it to something bigger outside of Etsy — perhaps a website to elevate it so it's bigger," said Schreiber. 
In addition to elevating the business, Chen and Schreiber are working to expand their product line. They recently launched an Amador-themed wire ring, currently available in their Etsy. 
"We were considering selling Amador rings to students here just so people can have fun with it. I just like making things that people enjoy wearing," said Chen. 
Moving forward
Although being a business-owner is an exhilarating experience, Chen and Schreiber are interested in keeping KatandM Jewelry as a side hobby. Chen hopes to pursue a career in STEM, while Schreiber aims to be a veterinarian. 
"I think I can definitely use entrepreneurship. I do like the idea of going into a business centered workspace," said Chen.
As freshmen, both Chen and Schreiber have a long road ahead of them. Regardless of what the future holds, they hope to keep KatandM Jewelry in business for as long as possible.
"I would strongly encourage anyone who wants to start a business to do it. Just do a lot of research before you start. We had some problems in the beginning, but it's super rewarding and I really like having a business," said Schreiber.
View Comments (2)