The hunt continues: Outer Banks season three comes to Netflix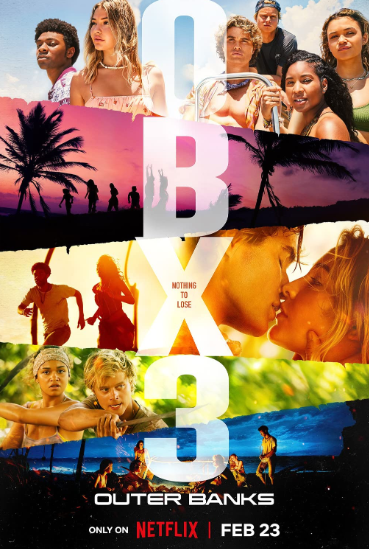 On February 23rd, the third season of the Netflix series Outer Banks was released for fans who have been anxiously waiting after the cliffhanger ending of season two to watch.  This season, the crew continnued their treasure hunt through the Outer Banks
Fans have been waiting since the summer of 2021, a total of nineteen months, to see what happened to John B and his crew of Pogues. With all of the Pogues overboard at sea, and the potential chance of John B's dad being alive, season three was certainly expecting some twists and turns.
 The town of Outer Banks is separated by two groups of people who live on opposite sides of the island. The rich, stuck up people, they are the Kooks. The less fortunate are the Pouges, which are the group most of the main characters are a part of.
The group consists of John B. Routledge,played by actor Chase Stokes. He is accompanied by his girlfriend on the show, Sarah Cameron(Madelyn Cline), Kiara Carrea (Madison Bailey), JJ Maybank (Rudy Pankow), and Pope Heyward (Johnthan Daviss) and season two brought in Cleo(Carlacia Grant) who became an honorable addition to the group of adventure seekers.  This season is particular, Kiara and Sarah are given the task of making the viewers feel something. Both girls go through a roller coaster of emotions over the course of ten episodes, making viewers feel as though they are in their shoes with their intense acting. 
The sets this season gave viewers an immersive experience into the world of treasure hunting on the coast of the Atlantic. This season was filmed mainly in different parts of Charleston, South Carolina. For part of season two and three the show was filmed in Nassau, Bahamas, and parts of Barbados. This made the story line seem more realistic, as if they were really on a hunt for gold, and the palm trees and rocky shores made it overwhelmingly a story that brought viewers to the East Coast.
Season three of Outer Banks is similar to the other seasons. The whole plot of the show is the same, but always has changing parts. There are always the Pouges who are seeking something that is hard and almost impossible to find. They run into bumps along the way that keep viewers sucked in to see what happens next.
There is an overall idea in Outer Banks about the idea of being dead. There are people who die, and people who fake their own deaths. But it has been proven throughout the series that this idea that writers put in viewers' heads is not always true. 
Outer Banks season three is a mix of suspenseful and hope that is brought on by the characters. The fact that there is an end goal, finding the gold and obtaining the Cross of Santo Domingo, almost forces viewers to continue watching until that goal is achieved. Outer Banks is for people who love binge-watching a show that has a lot of ups and downs. If the Pogues don't reach their end goal, there will be a season four where the motley crew will most likely be hunting for the same treasure.