Darsh Shah ('24) creates Young Champions Academy to empower local community
Since he was young, Darsh Shah ('24) loved basketball. While the sport started off as a hobby for him, basketball eventually became much more than merely a game. 
"I wanted to help my community, but I wasn't sure how," said Shah. "Basketball was always a huge part of my youth and I figured that spreading my passion for the sport would be a great way to give back and inspire the younger generation."  
Motivated, Shah created Young Champions Academy, a program that not only teaches basketball to kids, but also other skills like math and coding. Since then, he has raised thousands of dollars for charity and other humanitarian causes.  
Shooting for the Stars
Shah set out to create the program early in June last year, but he didn't want to do it alone. Seeing the need for additional members, Shah teamed up with fellow Amador student Alex Liu ('24).
"I've known Alex for a long time and he seemed like the perfect person to create this program with," said Shah. "He's great with kids and probably the most talented basketball player I know."
Young Champions Academy saw immediate success. Through local advertising and networking, Shah and Liu were able to gain more interest than they thought possible.  
"To be honest, I was a little skeptical about our success at the beginning, but I guess there's a lot of parents out there that want their kids to learn basketball because within a week, our sessions were fully booked," said Liu.
"Either that or they just needed a cheap daycare for them," he laughed.
With classes full, Shah raised enough money to fulfill his goal of making Young Champions Academy more than just a program. Using the funding, Shah decided to take his cause a step further and donate to charity.
"I decided to go with the American Cancer Society (ACS). It's a cause that is personal to me and their store is also local so it makes it convenient for both parties. 50 percent of our earnings go to them," said Shah.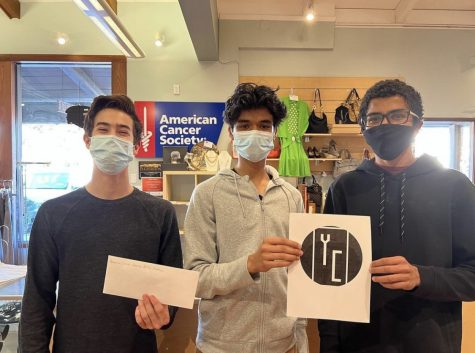 A Team Effort
While Shah initially focused on basketball, he eventually realized that he could expand Young Champions Academy to include academic courses from a variety of subjects.
"I was talking to parents after a class one day when I overheard one mom talk about a math tutor for her son," said Shah. "I was like wait, we can do that."
Before the start of their next session, Shah decided to add math and computer science classes to the array of programs offered. To do this, he brought in a new set of team members who had experience with those areas.
"I have a lot of friends with skills that I needed, and a lot of them were interested in joining our team. Jishnu is the head of our math program and he also is fluent in python and java. Ojas has competitive experience in coding and Sai teaches students web design skills," said Shah.
Between school work and other activities, balancing a schedule is quite challenging. Due to the diverse skill set within the group, planning and scheduling became a lot easier as team members could switch between programs when necessary.
"I think one of the best things about our team is that we are all very well rounded with all of our programs," said Jishnu Deep ('24).  "We all specialize in each of our categories and we like to keep it that way during sessions, but being the busy high-schoolers we are, it's fair that sometimes one of us can't make it to a class. Sure, Alex is who you want teaching basketball but when he isn't available, someone like me or Sai is perfectly capable of taking over."
With new classes, Young Champions Academy continues to grow rapidly. Despite having more students every session and raising increasing amounts of money for charity, Shah still believes that there is more that he can do to create a lasting impact on his community.
"So far we've raised over $4000 for the ACS, and we hope to double that and even hit five figures soon," said Shah. "I'm very proud of our team and all the positive influence we've spread in our community. In our future, I hope we continue to be a positive force for our students and continue to develop ourselves as human beings as well."
Leave a Comment