Ski and snowboarding conditions predicted to be optimal in Tahoe this winter
Tahoe is being hit by harsh snow storms that are expected to continue into the final weeks of fall. More than five feet may drop on the area, making many skiers and snowboarders excited for the 2022-23 winter season.  
"I am very exited for this year's ski season. I've pretty much skied all my life and last year was sort of a mediocre year. But this year we already got at least five feet of snow and there was just a huge storm this weekend too," said Dean Eggers ('23).
Many Tahoe ski resorts were able to open just in time for Thanksgiving thanks to more than 3 feet of snow in early November. After last year's largely dry season, resorts are cherishing this consistent snowfall.
"We went up the week after Thanksgiving break. We were lucky the snow was there because it's pretty early in the year. The snow was really nice, a little icy, but it was really gorgeous to see it," said Lizzy Bernales ('23).  
Tahoe's snow pack is already around 40% expected for the entire winter and will be an excellent refresher for California's drought-stricken water supply. However, past years have made many skeptical that the coming winter months will keep up with this initial snowfall.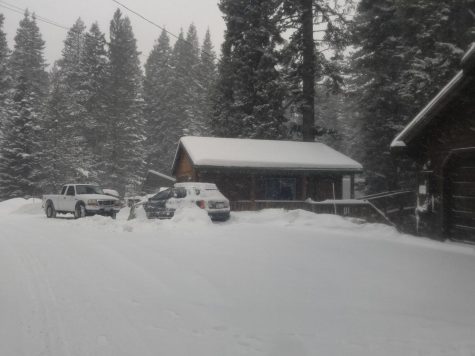 "Recent year's seasons have been very inconsistent. The snow has been coming down less frequently but with really big dumps, which isn't always convenient," said Eggers. 
Nevertheless, the weather patterns have brought severe traffic, slippery roads, blackouts, and avalanche warnings to the area. California Highway Patrol has advised eager visitors to postpone their visits for the time being unless they are absolutely prepared for the conditions. 
"I definitely avoid going up in bad conditions. I was supposed to go up this last weekend but a big storm was coming up and dumped so I decided to stay home. Now I am glad I did because I wouldn't have been able to make it down and teach today," said Kim Martin, English teacher.
Skiers and snowboarders aren't only excited about the weather, they are also looking forward to new policies. This year will be many resort's first years since 2020 without COVID restrictions or masking rules. In addition, resorts like Sierra-at-Tahoe have recovered from 2021's Caldor wildfire and are now able to reopen. 
"My husband and son are in Tahoe right now and they got to ski Saturday. Most of the runs are open so it's a really great start to this season," said Martin.