Flu-like symptoms and where to get the flu shot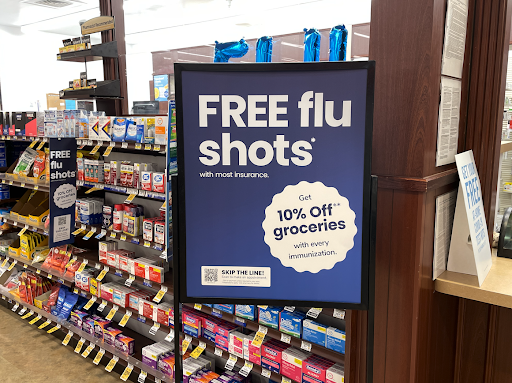 With temperatures dropping and 1,000 students from Stafford High School in Virginia being out sick with flu-like symptoms on October 21, concerns for this winter's flu season are rising. 
"We are seeing quite an uptick in flu and cold viruses here at Amador," said school nurse Pamela Lucero about this year's flu season.
To prevent severe flu circulation in Pleasanton, people should get their flu shot and social distance when they start experiencing flu-like symptoms, especially those who are immunocompromised.
"If you're feeling symptoms you would want to stay home," Lucero says about preventing the spread of symptoms at school. "It (the flu) was horrible… I couldn't go to school for a week," said Roxana Anayat ('23).
Common Symptoms
The most common flu-like symptom is fever and chills. Other symptoms may include cold symptoms like cough, runny nose, sore throat, and headache. Students who experience these symptoms should stay at home to prevent the spread of illness to other students. 
"I was bedridden for a while the last time I had it in middle school," said Roxana Anayat ('23). "I had a high temperature and I remember having general body aches.
Many local pharmacies offer free flu shots for those with insurance and some even include perks alongside it. For instance, Safeway gives 10% off groceries when shoppers get their flu shot, while Rite Aid offers free ice cream. Just make sure to check which locations are giving out vaccinations.
"I got my flu shot this year at Safeway and it went by really quickly," said Tanya Bakshi ('23).
Where to receive flu shots
Axis Community Health is also a feasible option for people who are uninsured. As long as an appointment is planned in advance, Axis will provide flu shots and other immunization services to those who are low-income or have no insurance.
"The school district and other community centers sometimes have free clinics so if you see something pay attention to your email and grab a spot," said Lucero about finding other options to get a flu vaccination.