Digital footprint getting the best of big names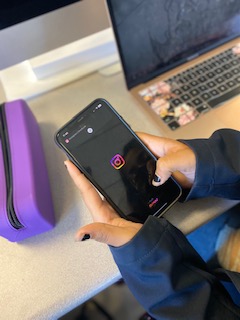 The internet and social media platforms have now become our main news source, which has led to easier access to all types of news. These outlets have made it very easy to leak private information. People often forget that even when they don't put something in writing, it can still be recorded and held against them. This has happened on multiple different occasions lately, and the spotlight is shining on them. 
"Digital footprints do not delete. People think things are temporary, and they are not. With media now, everything is documented in a way unlike before," said Amador Valley Health Teacher Julie Foley.
"Moves like Jagger" singer, Adam Levine was accused of messaging multiple different models in a flirtatious and sexual way, while still in a relationship with his wife Behati Prinsloo. Summer Stroh, an Instagram Model, took to Tiktok to talk about the messages she was receiving from Levine, which then prompted other models to speak up about their own personal stories with the singer. 
"I think what Adam did was not appropriate and is unfair to his wife and kids. I'm glad the models spoke out to the public to show him a lesson so he and others won't make the same mistake," said Jacqueline Pecavar ('25). 
Another instance of a bad digital footprint left in Hollywood is when Olivia Wilde and her current boyfriend, pop singer Harry Styles, met on the set of "Don't Worry Darling". There was controversy over actor Shia LeBeouf being fired, who Styles then replaced. However, LeBeouf later claims to have quit the movie and says  that he wasn't fired. Wilde has text receipts talking about the situation that were leaked, but she denies that he quit and says she fired him. 
"I think that Olivia made the right choice for the last by replacing Shia LaBeouf to make sure Florence Pugh felt like she was in a safe environment. Though I also think that Olivia should have made sure to set aside personal relations when it came to picking the new Jack," said Carys Shannon ('26). 
Digital footprints extend far from celebrities as LA city council President Nury Martinez was recorded saying racist things about a white council member's black child, calling him "changuito", which is Spanish for little monkey. 
Being aware of one's digital footprint and the impact it can make on you is important, but there are a lot of things that one can do to prevent leaving a bad footprint behind. 
"Anyone's digital footprint can affect them in so many ways. Now that colleges and businesses have the ability to research anyone's footprint, anything's up for grabs," said Foley.