Pleasanton welcomes the arrival of a new sandwich shop
Ike's, a new sandwich shop, has opened up near Noah's Bagel in Pleasanton. Founded by Ike Shehadeh in 2007, the shop originated from San Fransisco and has worked its way to having over 74 shops throughout the nation. It has satisfied many people's hearts with its amazing food and has a 5-star rating on Google, but Ike's ambition remains as the shop strives to reach even higher goals. 
The sandwiches made at Ike's have many unique factors— there are several different variations of sandwiches that can be made in a matter of 5 minutes. One of their popular selling points is their meat, vegetarian and kid-friendly options.
"I would recommend this place because of its unique environment. I also would recommend this place because of all of the variations in our dishes. We have over a hundred different dishes on the menu and they all have unique names, something that isn't very ordinary," said part-time sandwich maker Arnav Kannu (24').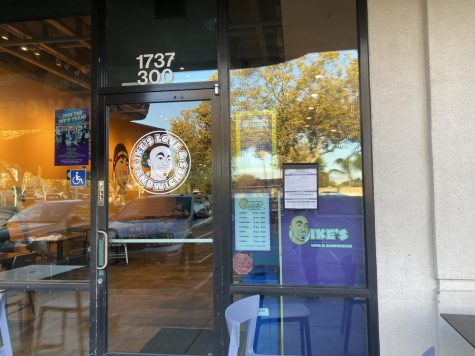 When the store first opened in early September, there was a remarkable rush in business. It seemed as though everyone wanted to check out the new restaurant that was renowned to have thousands of different sandwiches under its belt.
"The beginning crowd was really big because this is a new place, making it very popular. I think it also became very popular because this is the only location in Pleasanton and the nearest other one is all the way in Dublin. So that's why we got such a huge crowd," said Kannu (24').
Ike's Love and Sandwiches continuously grow a bigger audience in Pleasanton as their exclusive Blackhawk fried chicken sandwiches steadily become the best seller in town. The Blackhawk is made up of purple slaw, gouda cheese, Ike's Spicy Sycamore sauce, and fried chicken, which fills up the majority of the sandwich. 
There is also a vegan version of the dish, a different sandwich called Sunnybrook Farm. It has a warm grilled cheese taste paired with the savory taste of the sauce, giving it a stronger flavor. The purple slaw and fried vegan "chicken" adds to the sandwich's texture, giving it a bit of a crunch. The Blackhawk and its variations are well on their way to becoming a part of the five best-selling sandwiches of the award-winning section of Ike's menu.