Amador athletes spar in International Taekwondo Federation competition over summer break
"Fun and overwhelming," medal-winning students said
At five years old, Kavya Jadhav ('23) and Natalie Kong ('24) first stepped onto a Taekwondo mat, beginning an 11-year old martial arts journey that took them to the Netherlands for the five-day IFT Taekwon-Do World Championship in late July, where Jadhav and Kong represented Team USA against seven other nations. 
Jadhav competed in the adult women's division, helping the team snag a silver medal behind Argentina. Kong, representing the junior division, kicked her way into medals for patterns, sparring, and specialty. 
Patterns are movements containing techniques to practice both offense and defense. Specialty, on the other hand, are flying kicks where an athlete breaks wooden boards.
After years of training and hard work, Jadhav stepped into the spotlight and fought her way into the quarter-finals during the competition. To her, the experience was something special. 
"That was one of the best experiences I've had in my life because we got to go as a country and we were representing the entire US," Jadhav said. "We go to meet so many different people and make new friends. We also got to know new cultures and see the way they fight, so we learnt new things too."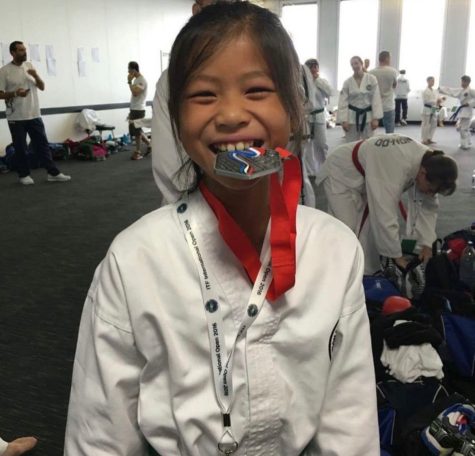 Kong had competed in many competitions before, but the world championships presented new challenges for her to overcome. The novel experience also provided her with an opportunity for athletic growth. 
"My experience in Worlds was really overwhelming," said Kong. "There were a lot of people and I got to compete in a stadium that was really big – something that I wasn't really used to."
When COVID hit in 2020, sports practice became more difficult and restrained; athletes could not train in person and must resort to online sessions and at-home training plans. For Jadhav and Kong, competing at worlds might have felt like a dream at that time. 
Rebounding, Jadhav and Kong trained harder than ever, competing in different competitions and qualifying to represent Team USA. 
"During COVID, we were not doing as much training and physical fitness as we had liked because we were in a pandemic," said Jadhav. "As soon as restrictions started lifting up we started bouncing back stronger than ever and we were able to succeed."
Jadhav had competed at the 2018 USA National Championships, but she didn't place. Disappointed, she resolved to do better next time and make the team. 
"Failing at the 2018 nationals had a negative impact on my morale because I thought that I can't do this anymore. After that, the self-hatred for myself dissolved, and I was able to pave my way for physical and mental fitness, and that was why I made a great comeback for the qualifiers," said Jadhav. "2021 was the next nationals, and I placed gold there in juniors."
Jadhav, during ITF Worlds, also had to face different hurdles in the new setting. Surrounded by more senior and experienced competitors, Jadhav had to adapt her skillset quickly.
"I was super worried there because I was with the 18 to 35-year-olds, and almost everyone was more than 24. Thankfully, I placed gold in my round during qualifying so I got to make my team," said Jadhav.
Making the team was thanks in large part to their training. Jadhav and Kong go to Jue's Taekwon-Do near downtown Pleasanton almost everyday. 
Despite the physically exhausting and mentally draining process, training and competing with their friends made the effort worth it during their run in Worlds.  
"I was exhausted because it was non-stop stressing out about competitions that I'm going to do," said Kong. "Worlds was a really fun experience because I got to better my connections with my friends and I got to meet new people around the world."
Leave a Comment