Winter guard wraps up successful season: Varsity wins first place and JV takes second
Over the course of their season, the Amador Valley Winter Guard varsity team has dedicated countless hours of hard work into perfecting their routines and performances. Their commitment has paid off, as Varsity concluded their season as the 2022 California Color Guard Circuit (CCGC) Scholastic National A champions, and JV took second place. 
"I definitely feel like I have grown and improved over the season, especially with weapon work like rifle and also dance, because I got to do a lot more of that than in the fall," said Aimee Sitter ('24).
Both groups worked around the clock since their season began in December to improve and perfect their techniques. The groups practiced three days a week, totaling twelve hours per week for Varsity and about nine for JV to ensure a gracious and in sync final performance.
"Overall the season went really smoothly; it was a lot of fun to actually do a full season because our first season got cancelled because of Covid. It felt really relieving to finally complete a season in winter," said Joyce He ('23).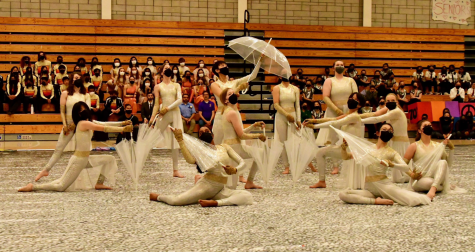 Near the season's end, Amador joined many other winter guard and winter percussion groups in the Night of Dances and Drums at Dublin High School. The title of Varsity's performance was "Corners of Your Mind," and the title of JV's was "After the Rain." The two teams have been able to push through Covid and other difficulties, including cancelled competitions, to end with an incredible season for all performers.  
"After you perform you feel this thrill, and pride for yourself. Even if it was a really bad run, you still feel that adrenaline after you perform, and it's just really nice to talk to everyone about how you did and to relax with everyone and go back to camp, eat some food, and hang out and watch the other shows. It's really calming and it feels really nice to be connected with people," said He.
Breaking down the winning season
"Coming back from COVID, it was hard because we had to get back into the swing of things. But getting our regular practice schedule back and a full team again really helped us get used to the season," said Varsity Captain Danica Howard ('23).
One of the biggest barriers the team encountered were COVID-19 restrictions. Many members of both JV and varsity entered the season with little to no experience.
"In regards to the members, they hadn't gone to competitions. Even on varsity, half [the members] had not done a full season yet, so it was weird to walk into that knowing that not everyone knew what they were doing," said Varsity Captain Nikita Jayaprakash ('22).
Winter guard is a sport that involves dance choreography and the use of equipment like flags, prop rifles, and sabres. The sport also puts an emphasis on working together as a team. In order to build a strong team, all members had to pull their weight by showing up on time to practices, working together, and helping each other when needed. If one member was struggling on a certain choreography step, it was important for other members to step in and help.
"Everyone was working and practicing. They were working through injuries, and some people were sick, said Jayaprakash.  "In our division, we are CCGC champions for this year. It was really impressive, and we were all shocked and happy. On behalf of the seniors, that was one of the best ways we could have ended our season."
Attending practices improved members' skills and technique, as well as creating life-long relationships and memories. 
"Some of my favorite memories are definitely competition days. Everyone gets there, and we are all happy. Towards the end of the season, we went early to watch JV perform, and after that we would have a few hours to get ready to do our makeup and hair. [We would] go around and do other people's hair and makeup under solar panels of other school's parking lots. Those were the best moments where you have natural bonding between guard members," said Varsity Winter Guard member, Anisha Madiraju ('24).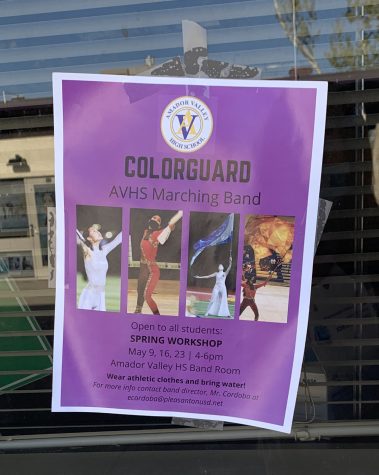 Although the winter guard season has just ended, members are already starting preparations for the upcoming season in the 2022-2023 school year. They have been practicing in their free time in places like the guard room. 
"We are expecting a big incoming freshman size, so that means holding a lot of workshops and building morale. When you feel connected to people, you're not as hesitant to ask for help, and that makes the team stronger," said Jayaprakash.
Students interested in joining color guard in the fall or winter guard are encouraged to attend the spring workshops. The winter guard community is diverse, with people from all types of backgrounds. It's a safe and supportive space for all who decide to join. 
"Winter guard helps you meet a bunch of amazing people, and it also gives a really good challenge to anyone who joins," said Howard.