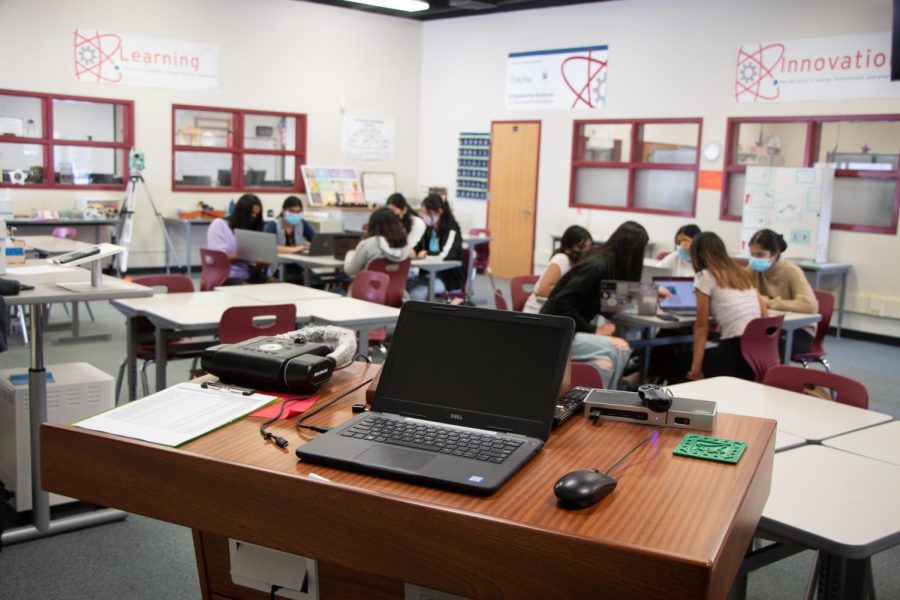 Amador SWENext Club hosts Intro to Engineering event
Right next to the multipurpose room lies the engineering building, filled with high tech labs, conference rooms, and bright minds innovating for the future. Working through trial and error while building earthquake structures, getting zapped from working with circuits, or fiddling with controls on CAD, their 3D modeling program, engineering students are constantly solving problems in order to create structures and learn about the different specialities of engineering. However, while engineering is becoming more diverse, many women have still faced discrimination in the field, leading Amador students to take action.
"I feel like I always had this sense of imposter syndrome, especially when I'm in these spaces and doing things alongside a male dominated field, so I do definitely feel a sense of imposter syndrome, and I definitely want to encourage girls to develop the confidence," said SWEnext President Hiya Shah ('22).
Hiya Shah is part time engineering student, part time president of the SWEnext club, which stands for Society of Women Engineers. Last Saturday they held the second annual SWEnext summit, which invited middle school students to learn simple engineering topics from club mentors. The main goals of this event were to get young people excited about engineering, promote diversity of race and sex in the engineering field, and show off the engineering curriculum here at Amador.
"The summit is another activity we are doing to help further admission and we think that by starting young, by providing early exposure to these middle schoolers, I think that is the most necessary time to introduce these concepts to them because it really fosters the sense of lifelong engagement with engineering and a passion for it later on," said Shah.
View this post on Instagram
The event was held on Zoom from 9pm to 12pm and included 30 middle school students and 25 mentors. The mentors had to attend a training session led by Hiya Shah the Thursday prior in order to get comfortable with the software, topics, and learn how to interact with the younger kids. Mentors were there to teach the kids, answer questions, and lead fun interactive activities. 
"Overall, the kids were very attentive and weren't hesitant to ask us any questions. Helping the kids learn new information and skills was an inspiring experience for me because they reminded me of my young self," said SWENext Mentor Sunny Moon ('25).

The event utilized breakout rooms in order to bring youth engineers into groups where they would collaborate with high schoolers and middle schoolers alike to tinker with circuits, and design models for 3d printing. They even would go away from the event with a souvenir, a 3d printed key chain that they designed on TinkerCAD, a miniature version of CAD, a software that students and even engineers in the workplace use.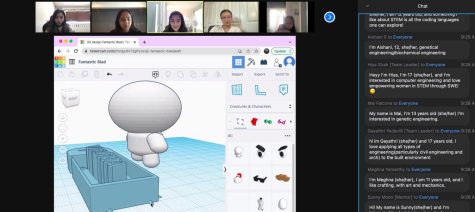 "I think it was a great experience for me as well because I got to brush up on some topics that I have not studied in a long time such as bread boards and other things related to circuits in electrical engineering," said Summit Mentor Shreya Modak ('23).
The club also planned a special surprise to start off their morning, a guest speaker who came all the way from Barnard College to talk about her experiences, tribulations, and successes in her field. Feeling limited by the scope of what she could study, she actually created her own major, which combined Computer Science with humanities in order to reorient the perspective and study of engineering.
"She created her own major which is designed on how to find a new way of teaching computer science that can be successful and easy to interpret since Computer Science is taught in a lowkey bad way generally that's hard to understand unless you have a lot of exposure already," said Modak.
With all these women in STEM there to support the middle schoolers, they were immersed into the world of engineering, and learned many valuable skills that foreshadowed the work they would be doing in the high school classes. Because science classes in middle schools  are broad, it was the first opportunity for many to specialize in a specific field, and allowed them to think beyond a typical middle school level.
"I enjoyed learning about the different types of STEM categories! I learned more about careers that combine two different topics like engineering and design. I also learned more about the opportunities I have in high school, and what classes may benefit me in the future," said Harvest Park Student Kayla Kadkhodayan ('27).
SWEnext has great hopes for the next SWEnext Summit, and wants to have it be in person next year, however this will mean more planning and management for the club. From the work and effort made by the mentors in this summit, they also want the 8th graders to potentially come back as mentors in 2023, keeping the tradition and the sisterhood alive.